Quantum of Solace Theatrical Review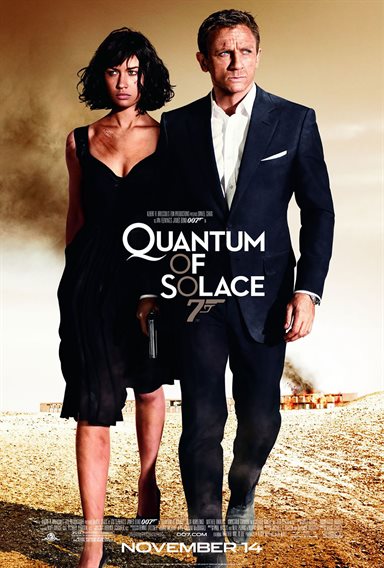 EON Productions is methodically remaking the Bond franchise. Starting with Casino Royale, they moved it more along the Bourne axis into gritty action and away from the suave super-spy that Roger Moore personified -- to the point where Moore, at 80, felt the new Bond franchise was over-violent ... and under-sexed. Like a living organism replacing parts of itself over time, the new series removes the Bond-James-Bond introduction, puts the opening credits traditional gun-barrel opening at the end, and sings the title song with the duet. Even the classic martini gets ditched and James has to ask the bar tender what he's drinking.

Of course a lot of it is still recognizable: the Bond-plot cuts between locations so quickly that it can make you dizzy if you don't keep up. There is still a Bond villain with world-dominating plans (in this case it's a shadowy organization called 'Quantum' -- following in the footsteps of S.P.E.C.T.E.R. and SMERSH). There are still pretty girls who take their clothes off -- but this Bond, while oozing sexual charisma, isn't so much a ladies man as someone who'll use them ruthlessly to complete his mission.

In Quantum, Bond is on the trail of the same guys that he left off fighting in Italy in the last movie -- it picks up directly after Casino left off. He, again, is sort of off-leash (M. is trying to control him while still basically trusting his instincts) and 'rogue' while driving forward with his relentless quest to find the people who need to be found - and then killed. This quest takes him to Haiti and then elsewhere as he tracks his quarry through boat, car, and plane chases, as well as foot chases involving the now ubiquitous free-running stunts through heavily built up urban terrain. What's going on, as per the Bond legend, isn't nearly as important as how it looks -- and Quantum of Solace looks great.

If anything is missing from this, it is the sense of humor. Gone is the absurdity of the Bond gadgets. The girls don't have cutesy double entendre names (although agent Fields with her strawberry red hair barely misses being Strawberry Fields in a well-timed dialog save). There is no ice-castle car chase with a "cloaked" vehicle (thank goodness) -- although a hotel built out of prone-to-explode power-cells gives us an extremely unlikely exotic location.

The movie is short, violent, fast-paced, and slick. Again, the star, Daniel Craig, shows us he can be a cold, damaged assassin who still exudes animal magnetism and is utterly relentless in getting the job done. Bond has always been an aspirational character, adopting whatever women-want-and-men-want-to-be that the zeitgeist required. I suppose that means that today we want an extreme physical specimen who combines incredible competency with a deep core of narcissism. The new James Bond isn't as pleasant as his predecessors, but he's right for the new century: he is interesting to watch.
About Marco Chacon
comments powered by

Disqus