Seeking a Friend for the End of the World Theatrical Review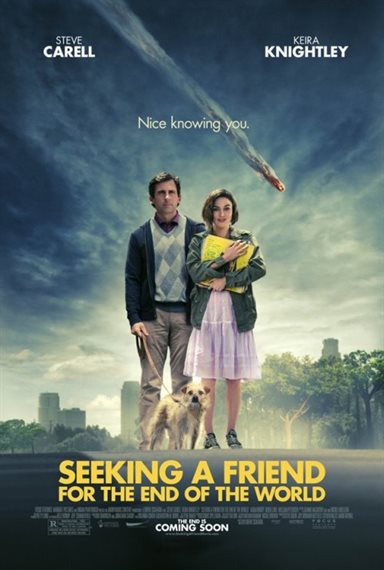 Usually with a disaster movie you follow the main characters as they fight for survival. In this case, we have something different: there is no hope for survival. What would you do? Would you party like its 1999? Would you loot? Would you continue about your daily life? Would you spend it with your family? Would you fortify your basement and try to ride it out? Or would you try to find the missed opportunities in your life? The movie follows Dodge, played by Steve Carrell. Dodge's wife leaves him when it is announced that all hope is lost, and we see that he is one of those who try to continue about their daily life to cope. That same night he runs into Penny (played by Keira Knightley), who happens to be breaking up with her boyfriend who lives in Dodge's apartment building. He then discovers that "the one who got away" still has feelings for him. He decides to go out and find her even as the planet is heading for certain doom.

This causes the movie to split itself into two parts, which ends up leading to its own downfall. The first half of the movie is practically given away by the trailers – it contains the funniest parts which happen to occur during Earth's darkest hour and is an excellent mix of comedy mixed with the drama of Armageddon. Steve Carrell plays Dodge as a straight man, and is able to pull it off with subtle gestures and his vocal tone. Penny is the comic relief, who is a self-described "optimist", and doesn't really seem to be taking the end of the world all too seriously. They end up setting off on a trip that is reminiscent of the plot from The Sure Thing. In that movie the transition of the road buddies from friends to lovers was more natural and believable, while the progression of the relationship between Dodge and Penny is sorely lacking, hard to believe and seemed forced. Both Carell and Knightley did a wonderful job in their respective roles, but acting alone can't save it. Meanwhile, with the exception of Steve Carrell and Keira Knightley, the rest of the billed stars add nothing to the plot (with one exception) and usually have screen time that can be measured in seconds. So while they are shown in the trailer, they add nothing to the progression of the story, and do nothing in terms of showing the various kinds of reactions people would have if such an event occurred. People changed their behavior only once it seemed, meanwhile the two lead characters are the only ones evolving, but without adequate explanation. It seemed that at one point the writers just threw their hands up and said 'the world's ending, that's why!'

While you are expected to have some semblance of suspension of disbelief in these kinds of movies, the utter failure of key elements detracts from the overall story. In the movie the news media mentions the massive breakdown of society continuously but you don't see it after the beginning of the movie – stores are stocked, gas stations are open, and refrigerators are full. A small plane cannot fly as far the movie wants you to think it can. These things just make the movie drag during the second half and distract from what the writers wanted to portray. But by the end you have a half dark comedy and half romance film (that just happens to be set in the backdrop of a disaster kind of like Titanic) that fails to do either one very well and ends in such a way that you will want to put the main characters out of their misery yourself.

About Roger Longenbach
comments powered by

Disqus