Harry Potter and the Chamber of Secrets (2002)
| | |
| --- | --- |
| Director: | |
| Cast: | |
| Released: | Friday, November 15, 2002 |
| Length: | 161 minutes |
| Studio: | Warner Bros. |
| Genre: | Sci-Fi/Fantasy |
| Rating: | Some material may not be suitable for children. |
Synopsis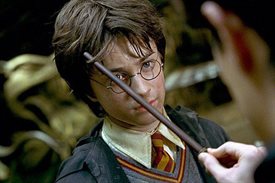 The follow-up to Harry Potter and the Sorcerer's Stone finds young wizard Harry Potter (Daniel Radcliffe) and his friends Ron (Rupert Grint) and Hermione (Emma Watson) facing new challenges during their second year at Hogwarts School of Witchcraft and Wizardry as they try to discover a dark force that is terrorizing the school.
Purchase your copy of Harry Potter and the Chamber of Secrets today at
Download Harry Potter and the Chamber of Secrets from iTunes.
Comments

Courtesy of
Movie Hype App
sully5000
This is a awesome movie!!
11/07/2016 12:39 PM EST
lfarah
Harry Potter marathon!
12/31/2014 5:31 PM EST
nrose101
On HBO. Can't ever get enough Potter!
06/04/2013 8:32 PM EST
Harry Potter and the Chamber of Secrets images are © Warner Bros.. All Rights Reserved.
Experience Behind the Scenes Magic at Universal Orlando's 'A Cel...
12/08/2016 10:32 AM EST
Universal Studios and Warner Bros. announced today it would once again host A Celebration of Harry Potter at Universal Studios in Orlando Florida from January 27 to 29, 2017.  The fourth annual event will   allow guests the opportunity to celebrate J.K. Rowling's Wizarding World with a variety of exclusive experiences and attend the largest Harry Potter Expo in event history, featuring more partne...
More>>
Fantastic Beasts to Encompass a Five-Film Franchise
10/14/2016 10:58 AM EST
While attending a global event for Warner Bros. Fantastic Beasts And Where To Find Them, J.K. Rowling announced that there will be a total of five films in the Harry Potter spin-off franchise.  Originally, Rowling stated the franchise would be a trilogy. The event also featured  he first 10 minutes of the movie and a featurette.The first film stars Eddie Redmayne and will be released on November 1...
More>>
A Celebration of Harry Potter Event at Universal Orlando 2016 Ta...
11/10/2015 1:07 PM EST
Orlando, Fla. (November 10, 2015) - Harry Potter film stars Rupert Grint, Bonnie Wright, Matthew Lewis, Evanna Lynch and Katie Leung will appear at "A Celebration of Harry Potter" - a special event hosted by Universal Orlando Resort and Warner Bros. Consumer Products. Creative talent also set to appear includes Pierre Bohanna, head prop maker for the Harry Potter film franchise, Paul Harris, the w...
More>>
New Potter Play to be Titled Harry Potter and the Cursed Child
06/26/2015 10:12 AM EST
J.K. Rowling has announced that she will be opening her Harry Potter play in London's West End next year.  The play will be titled Harry Potter and the Cursed Child. Rowling made the announcement on the 18th anniversary of when Harry Potter and the Philosopher's Stone was debuted. Even though she isn't discussing the plot as of yet, Rowling said that it will explain the death of Harry's parents as...
More>>
Eddie Redmayne Confirmed for Fantastic Beasts
06/02/2015 9:52 AM EST
A couple of weeks ago, we reported that Eddie Redmayne was the favorite to be cast in the upcoming Harry Potter prequel, Fantastic Beasts And Where To Find Them, and now the news has been confirmed that he will, in fact, be starring in the film. The announcement was made yesterday by Warner Bros.Redmayne will be playing the role of Newt Scamander. Fantastic Beasts will be directed by David Yates, ...
More>>
Eddie Redmayne a Favorite for Fantastic Beasts
05/12/2015 3:58 PM EST
Eddie Redmayne, who won an Oscar for his performance in "The Theory of Everything", has reportedly been offered a role in the upcoming film "Fantastic Beasts".  Redmayne would play Newt Scamander.The film is a spin-off of the hugely popular "Harry Potter" series.  The story takes place in New York, about 70 years before the Harry Potter timeline.  It follows the life and adventures of Newt Scamand...
More>>
A Celebration of Harry Potter Event at Universal Orlando
02/04/2015 9:31 AM EST
During the weekend of January 30th, 2015, the 2nd annual Celebration of Harry Potter occurred at Universal Orlando, hosted by Universal Orlando and the Warner Bros. Entertainment. During this three-day celebration, Harry Potter fans worldwide came together to celebrate their love of the world created by author J.K. Rowling.Some of the highlights of this three-day extravaganza included: Autograph s...
More>>
Harry Potter Star Robbie Coltrane Brought to Orlando Hospital
01/30/2015 2:41 PM EST
Robbie Coltrane, who is best known for his role of Rubeus Hagrid in the Harry Potter films, has been taken to a hospital after complaining of flu-like symptoms while on a flight heading to Florida. The actor was heading to Orlando for the "Celebration of Harry Potter" convention that is taking place at Universal Studios' Wizarding World of Harry Potter.  He was making the trip with co-star Michael...
More>>
Three-Day Harry Potter Event to Feature Film Talent Q&A Sess...
11/06/2014 2:25 PM EST
Orlando, Fla. (November 6, 2014) - Harry Potter film talent Robbie Coltrane, Michael Gambon, James Phelps, Oliver Phelps and Evanna Lynch are slated to appear at the second annual "A Celebration of Harry Potter" - a special event hosted by Universal Orlando Resort and Warner Bros. Entertainment. The event allows fans to celebrate all of Harry's adventures, from the beloved books to the feature fil...
More>>
Rowling's Fantastic Beasts and Where to Find Them Will Be a Sequel
03/31/2014 3:42 PM EST
J.K. Rowling's "Harry Potter" spin-off films, "Fantastic Beasts and Where to Find Them", will be a trilogy according to the New York Times.The series was announced in Spetemmber, and Warner Bros. CEO Kevin Tsujihara said that he hoped to "build a film franchise" from the project.  The films will be based on Rowlings book by the same, which was a textbook published between the fourth and fifth Harr...
More>>
New Harry Potter Inspired Film on Horizon
09/12/2013 9:19 AM EST
Warner Bros. Entertainment today announced an expanded creative partnership with world-renowned, best-selling author J.K. Rowling. At the center of the partnership is a new film series from Rowling's world of witches and wizards, inspired by Harry Potter's Hogwarts textbook "Fantastic Beasts and Where to Find Them" and the adventures of the book's fictitious author, Newt Scamander. The announcemen...
More>>
Daniel Radcliffe Admits To Being Drunk On The Set of Harry Potter
02/06/2012 1:22 PM EST
One of the world's most recognizable people,  Daniel Radcliffe, admitted that while filming some scenes for the "Harry Potter" movies he was actually drunk.  According to Radcliffe in an interview, this condition occurred during a period in his life where he was drinking "nightly.""I have a very addictive personality. It was a problem. People with problems like that are very adept at hiding it. It...
More>>
Harry Potter and the Chamber of Secrets (Ultimate Edition) Blu-ray Review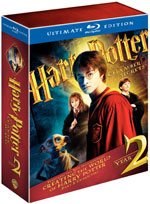 As we have almost now come to the end of the Potter films and have passed the end of the books where we learned all of the secrets, e.g. Rowling's assertion that Dumbledore was gay, we are now getting to watch the films actually come out on Blu-ray for our home collections. The 2002 movie was the second, and thankfully last, of Chris Columbus' hyper-literal interpretations. Someone noted that the Bible was usually filmed with less fidelity than the first two Potter flicks, and workman-like filming.
To be sure, he did a credible job -- just not an inspired one, and as we can see as we now live in the series' future, he nailed the cast. The school has become more impressive as time wore on, but the essential nature of Hogwarts, which Columbus gets the credit for, has remained unchanged. If you want to own the Harry Potter series of films, you will want to own this one. If you are not a fan, I believe the common understanding of which I share to a degree, is that the books get more interesting later in the series; although the sense of whimsy wears a little thinner as they top 300 pages each.
Secrets reunite Radcliffe (Harry), Grint (Ron), and Watson (Hermione) who are together at Hogwarts again for their second year. This time the threat comes from a deadly giant snake and a haunted notebook left behind by Harry's ever-present nemesis, Lord Voldemort. Harry gets help from a house elf (Dobby), who, it is conjectured, was designed to look like Vladimir Putin, and the resemblance troubled the Russian leader. The movie runs 161 minutes (174 in extended edition) and has only one major distinction from the book that I could find.
The movie's video and audio are both excellent -- assuming your TV can do adequate blacks as the film tends towards the darker pallet and the new soundtrack mix is simply amazing.
Over all it is a sufficient rendition, but nothing I am overly excited about. This Ultimate edition is vastly superior to the original Blu-ray release including: an extended version of the film with 13 minutes of footage not shown in theatres, and bonus features such as Creating the World of Harry Potter, Part 2: Characters, and a 48-Page Photo Book with never-before-seen images from Years 1-7 and 2 Ultimate Edition Character Cards (Card No. 3: Rubeus Hagrid, Card No. 4: Severus Snape).
This truly is the Harry Potter Ultimate Edition and I can't wait to see the entire series get this treatment.
-- Marco Chacon
For more reviews please visit our film/television review section.
Harry Potter and the Chamber of Secrets images © Warner Bros.. All Rights Reserved.