Deadpool (2016)
| | |
| --- | --- |
| Director: | |
| Writers: | Rhett Reese, Paul Wernick |
| Cast: | |
| Released: | Friday, February 12, 2016 |
| Length: | 106 minutes |
| Studio: | 20th Century Fox |
| Genre: | Sci-Fi/Fantasy, Action/Adventure |
| Rating: | Under 17 requires accompanying parent or adult guardian. |
This film contains a scene during or after the credits.
Synopsis
Based upon Marvel Comics' most unconventional anti-hero, DEADPOOL tells the origin story of former Special Forces operative turned mercenary Wade Wilson, who after being subjected to a rogue experiment that leaves him with accelerated healing powers, adopts the alter ego Deadpool. Armed with his new abilities and a dark, twisted sense of humor, Deadpool hunts down the man who nearly destroyed his life.
Purchase your copy of Deadpool today at
Download Deadpool from iTunes.
Comments

Courtesy of
Movie Hype App
birdie
great movie Ryan Reynolds has his best role yet
10/2/2016 12:11 PM EDT
kinggsav
Deadpool woah
8/13/2016 12:06 PM EDT
chiripas
Super funny
8/4/2016 11:51 PM EDT
bobstone
I hear there is going to be a sequel
7/21/2016 9:39 AM EDT
xxemobratxx
Love it !
7/10/2016 11:16 PM EDT
fyther
So funny 😂😂😂😂
7/9/2016 9:05 PM EDT
dcyoung
deadpool is so funny
7/7/2016 5:27 PM EDT
padge-lad98
Deadpool is a funny ****film
7/5/2016 8:01 PM EDT
swag1
It's great
7/2/2016 1:33 AM EDT
prettyfaceniyah
Love it
7/1/2016 1:18 PM EDT
6bulldog123
I love dead pool
6/30/2016 8:04 PM EDT
pandafoxter
Amazing...
6/22/2016 4:25 PM EDT
skylahhhhh
I'm in love
6/13/2016 2:48 PM EDT
tyler67734
Good movie
6/10/2016 3:47 PM EDT
cesar26
Really good movie
5/30/2016 10:13 AM EDT
Deadpool images are © 20th Century Fox. All Rights Reserved.
Deadpool Sequel Already in the Works
2/10/2016 9:42 AM EDT
It has been confirmed that Fox is already working on a Deadpool sequel. The script will be written, once again, by Rhett Reese and Paul Wernick.Deadpool, which opens this Friday, is on track to earn at least $65 - $70 million over the holiday weekend, making it a prime subject for a sequel.Tim Miller will return to the project in a creative capacity, but won't be directing, as he did for the first...
More>>
Deadpool Theatrical Review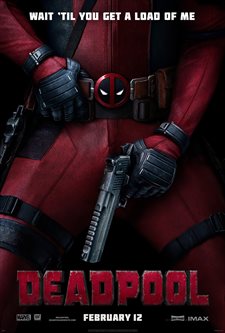 Wade Wilson (Ryan Reynolds; Green Lantern) is no super hero. In fact, he is probably the anti-super hero. He doesn't care about justice, unless it involves his own quest for revenge. He isn't interested in saving lives or bringing down the bad guys, again, unless it serves his purpose. He's funny, crass, sarcastic, self-centered and arrogant. Not the qualities the world generally looks for in its super heroes.

Wade was Military Special Ops until he was dishonorably discharged and then he just became dishonorable as a thug for hire. However, things changed when he fell in love and then found out he had terminal cancer. Approached by a mysterious man offering to "cure" him, Wade was at first skeptical but then interested. Ultimately, he became a guinea pig for a privately funded organization which did actually cure him but then mutated him, making him basically immortal.

Reynolds was a great casting choice for this role because he does sarcasm so well while hiding behind a smooth voice and boyish good looks. One almost doesn't mind being insulted by him, he's so good at it. His Wade is a subtle combination of snarky one-liners layered with some gooey emotion hidden deep down inside.

Surrounding him is a great cast including Morena Baccarin (Gotham) as Wade's equally snarky girlfriend, Ed Skrein (Transporter: Refueled) as Francis the villain, Leslie Uggams (Nurse Jackie) as Blind Al, Wade's obnoxious roommate, and Karan Soni (Blunt Talk)as Dopinder, the taxi driver who is fodder for Wade's sarcasm. My only question with the casting was T.J.Miller (Gravity Falls) as Weasel, Wade's best friend. While I loved him, and felt he was a good match for Reynolds, I wondered how he managed to keep the not so savory patrons of the bar he ran in check. I would have thought they could have beaten him to a bloody pulp at any point in time, but they never seemed to.

The real stars of Deadpool, though, are director Tim Miller, making his first feature debut, and screenplay writers Rhett Reese (Zombieland) and Paul Wernick (Zombieland). Miller keeps the pace even and blends action sequences nicely with the more dramatic moments. The action was wasn't overdone and tiresome like some of the other super hero movies we've seen lately, but the special effects and choreography for those scenes were masterfully shot.

Reese and Wernick did a phenomenal job of peppering the script with hilarity and not-so-subtle jabs at other works in the Comic Book Universe. Their words didn't seem forced or hokey and they told the story succinctly, without getting bogged down in back story or explanation much of the time.

This is certainly not the typical Marvel/DC comic fare we've seen of late. Much like its main character, Deadpool sets itself apart from the rest. It was seriously funny, politically incorrect, and simply a fun movie to watch. It has a little bit of everything for everyone and regardless of age, gender, or race, its appeal is uniform across the board. I enjoyed it for so many reasons and am looking forward to a sequel.

Grade: A-
Read More Deadpool Reviews
For more reviews please visit our film/television review section.

Trailer
Based upon Marvel Comics' most unconventional anti-hero, DEADPOOL tells the origin story of former Special Forces operative turned mercenary Wade Wilson, who after being subjected to a rogu...
2:40