Superman Returns (2006)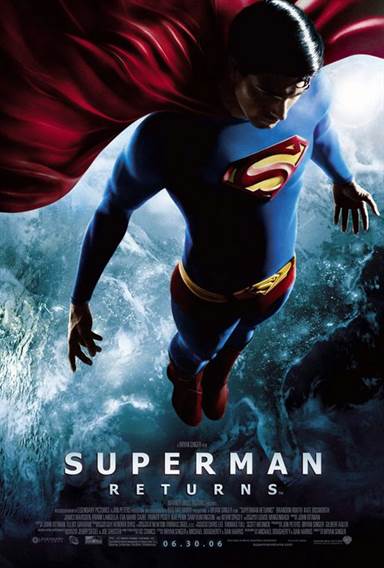 | | |
| --- | --- |
| Director: | |
| Cast: | |
| Released: | Wednesday, June 28, 2006 |
| Length: | 157 minutes |
| Studio: | Warner Bros. |
| Genre: | Sci-Fi/Fantasy, Action/Adventure |
| Rating: | Some material may be inappropriate for children under 13. |
Synopsis
Following a mysterious absence of several years, the Man of Steel comes back to Earth. While an old enemy plots to render him powerless once and for all, Superman faces the heartbreaking realization that the woman he loves, Lois Lane, has moved on with her life. Superman's bittersweet return challenges him to bridge the distance between them while finding a place in a society that has learned to survive without him. In an attempt to protect the world he loves from cataclysmic destruction, Superman embarks on an epic journey of redemption that takes him from the depths of the ocean to the far reaches of outer space.
Purchase your copy of Superman Returns today at
Download Superman Returns from iTunes.
SPONSORED STORIES
Superman Returns images are © Warner Bros.. All Rights Reserved.
Zack Snyder and Henry Cavill Open to Doing Another Superman Film
04/07/2016 11:05 AM EDT
Director Zack Snyder, as well as Superman himself, Henry Cavill, have both recently commented on the possibility of another standalone Superman film - and both of them show support for the idea."I think if we could get a good script it would be great to have a standalone Superman movie. I think that would be fun to do. Part of the reason we haven't announced the standalone Superman movie this time...
More>>
Zack Snyder Confirmed for Justice League
04/28/2014 3:07 PM EDT
It has been confirmed that a "Justice League" film will be released after the Batman/Superman film, and that Zach Snyder will direct it.Snyder directed the "Man of Steel" and will also be at the helm for the 2nd and 3rd installments of the franchise as well.There is no release date set as of yet, but the "Justice League" is slated for a May 6, 2016 release. Countdown to the release of Justice Leag...
More>>
Joaquin Phoenix as Lex Luthor in new Superman Film?
12/19/2013 2:25 PM EDT
Unconfirmed rumors suggest that Joaquin Phoenix is being considered by Warner Bros for the upcoming Batman / Superman movie, with some speculating he is wanted for the super villain role of Lex Luthor.The role of Luthor has for so long been rumored to be going to Breaking Bad actor Bryan Cranston but it seems Phoenix now heads that list.Zack Snyder's movie, which will star Henry Cavill as Superman...
More>>
Join Filmmakers and Cast of Man of Steel™ During a Live Online ...
11/08/2013 2:13 PM EDT
WHAT:  Join Henry Cavill, Amy Adams and Man of Steel Director Zack Snyder with special host Kevin Smith on November 9th at 9:00AM PST/Noon EST for an exclusive fan event on Yahoo! Movies.The cast and crew will talk all the things Man of Steel, discuss what the future holds for the Last Son of Krypton, and answer live fan questions.The event will also include a featurette of the sit-down discussion...
More>>
Russell Crowe Discusses Suiting Up for Superman Prequel
07/08/2013 4:37 PM EDT
Russell Crowe, who recently starred as Jor-El in "Man of Steel", responded via Twitter to the many requests and comments about seeing some more of pre-destruction Krypton.Crowe said he would absolutely be up for reprising the role and exploring more of the Krypton aspect of the story.    "A lot of you are asking about a KRYPTON prequel. If that's something you feel strongly about let Legendary Pic...
More>>
Man of Steel Soars To The Top of UK Box Office With A Heroic Ope...
06/17/2013 10:25 AM EDT
LONDON, June 17, 2013 - Warner Bros. Pictures' and Legendary Pictures' "Man of Steel" has opened to a stellar opening of £11.2 million in the UK and Ireland, marking the biggest opening day of 2013 and the second biggest opening weekend of the year.  The announcement was made today by Josh Berger, President and Managing Director, Warner Bros. UK and Ireland."We're thrilled at the tremendous respon...
More>>
Man of Steel Ready to Hit Cinemas in June
02/28/2013 11:43 AM EDT
Word on the street is that the upcoming film, "Man of Steel" is done.The Superman reboot, which is due out on June 14, is said to have only the 3D post-conversion work left, which is currently taking place.  According to Joblo, there is a bullet list of things to look forward to about the film:    - Imagine a Nolan story with Snyder effects/action.    - There's TONS of action with Superman kicking...
More>>
Zack Snyder Confirms Man of Steel Trailer to Play Before The Hobbit
11/21/2012 11:23 AM EDT
Zack Snyder, directer of "Man of Steel" has confirmed that the trailer for the film will be playing before "The Hobbit".  Snyder said, "I can't wait for The Hobbit, so it will be fun to see our crazy Man Of Steel trailer and then enjoy The Hobbit because that's going to be great. It just feels like a fun Christmas thing to do, drag the whole family out for that action."Snyder also commented about ...
More>>
Zack Snyder Discusses Tone of Man of Steel
11/13/2012 2:25 PM EDT
Zack Snyder, who will be portraying Superman in the upcoming film,  "Man of Steel", recently spoke about the film, and the tone that it has. "It's a more serious version of Superman. It's not like a heart attack. We took the mythology seriously. We take him as a character seriously. I believe the movie would appeal to anyone. I think that you're going to see a Superman you've never seen before.  W...
More>>
New Superman To Be Edgy
04/14/2012 9:46 PM EDT
There is little over a year before the latest superman movie Man of Steel is due to hit the box offices around the globe, Dylan Sprayberry who plays a teenage Clark Kent has been interviewed about the experience and it seem that Man of Steel will be a lot "darker" than previous versions of the comic book superhero."When Zack (Snyder) and I were talking about it the first time, he was saying how Su...
More>>
Laurence Fishburne Joins "Man of Steel"
08/04/2011 2:17 PM EDT
It has been reported that Laurence Fishburne, who recently departed "CSI", has signed on to star in Warner Bros. and Legendary Pictures film, "Man of Steel".Fishburne joins a cast that already includes Henry Cavill, Amy Adams, Russell Crowe, Christopher Meloni, Kevin Costner, Diane Lane and Harry Lennix. He will be playing Perry White, editor of the Daily Planet newspaper.There is no official word...
More>>
Harry Lennix Cast in "Man of Steel"
07/11/2011 4:14 PM EDT
More casting news has surfaced for the upcoming Superman film, "Man of Steel".  It has been reported that Harry Lennix has been cast as General Swanwick, a high-ranking military official.Lennix is best known for his role as Commander Lock in the "Matrix" sequels. He joins a cast that includes Henry Cavill, Amy Adams, Michael Shannon, Russell Crowe, Julia Ormond, Kevin Costner, Diane Lane, Christop...
More>>
Superman Returns Theatrical Review
Superman flies right back into the viewer's hearts with this latest reincarnation after a 19-year hiatus.

This time around the man of steel is played by newcomer Brandon Routh, with Kevin Spacey taking over the role of the man of steel's arch nemesis, Lex Luthor, and famed director, Bryan Singer, is behind the lens.

Superman has taken a leave of absence from earth to go investigate what happened to his home planet of Krypton. However, on Earth, society has moved on and accepted a life without their favorite superhero. Lois Lane is now a single mother and Lex Luthor is out of prison, and up to his old tricks.

It is on this premise that Bryan Singer, and his team known for their success with the X-Men movies brings the Man of steel back to the big screen.

Known as a director that tries to bring depth and deeper meaning to his stories Singer succeeds on many levels. The man of steel is no longer one dimensional and you can see, like everyone else he does have problems.

Brandon Routh quickly and superbly steps into the big reds boots. He embodies the new generation's man of steel on some many levels, and by the end of the movie, he has become the Superman you will remember in years to come.

The supporting cast of Superman Returns is amazing. Kevin Spacey gives his all as Lex Luthor, and you can really tell why he is the arch nemesis of Superman. Kate Bosworth as Lois Lane and her fiancé Richard White played by James Mardesn (Cyclops from the X-Men series), performances are top notch and really add depth to the story.

No surprise to this reviewer the special effects are top notch and Superman has never flown better in his life. Bryan Singer and his team spare no expense making the audience believe that these events look almost real and could happen in our world.

Superman Returns pays homage to past films by adding many references to Superman I and II. Singer even went as far as to incorporate never-before-seen dialogue of Marlon Brando from the original Superman back into the film.

When we last saw the man of steel on the big screen the producers wanted more camp than drama and substance. Singer brings Superman back to his roots and creates a Superman that is more reality based that relies on mystery/suspense more than just action off the cuff remarks.

The movie succeeds on numerous levels and is a great way to reintroduce a franchise and character that has become a symbol for our society in a time when we need heroes again.

The audience will truly believe once again that "a man can fly"!
For more reviews please visit our film/television review section.
Superman Returns images © Warner Bros.. All Rights Reserved.