Alvin and The Chipmunks (2007)
Synopsis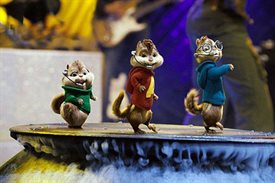 Three chipmunk brothers are adopted by a man named Dave. Based on the 1950s cartoon series about a music group of chipmunks comprised of mischievous group leader Alvin, tall and quiet Simon, and chubby, impressionable Theodore.
Purchase your copy of Alvin and The Chipmunks today at
Download Alvin and The Chipmunks from iTunes.
Alvin and The Chipmunks images are © 20th Century Fox. All Rights Reserved.
Alvin and The Chipmunks 2 To Star The Chipettes
1/15/2008 12:00 PM EDT
Due to the success of the Alvin and the Chipmunks film, there are talks of a sequel; this time, however, the film will revolve around the Chipettes. "There has been a lot of talk about it," revealed Janice Karman, one of the film's producers. "A lot of people have been asking about the little girls."The Chipettes first appeared on Alvin and the Chipmunks in the early 80s.  Their names are Brittany...
More>>