Mr. & Mrs. Smith (2005)
Synopsis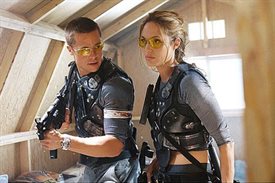 Brad Pitt and Angelina Jolie smolder in one of the most anticipated, sizzling action films ever made. After five (or six) years of vanilla-wedded bliss, ordinary suburbanites John and Jane Smith (Pitt and Jolie) are stuck in a rut the size of the Grand Canyon?until the truth comes out! Unbeknownst to each other, they are both coolly lethal, highly paid assassins working for rival organizations. And when they discover they're each other's next target, their secret lives collide in a spicy, explosive mix of wicked comedy, pent-up passion, nonstop action and high-tech weaponry that gives an all-new meaning to "Till death do us part!"
Purchase your copy of Mr. & Mrs. Smith today at
Download Mr. & Mrs. Smith from iTunes.
Comments

Courtesy of
Movie Hype App
briannanicole2x
...
2/3/2015 12:29 AM EDT
gummibunnyyy
Late check in
1/19/2015 1:48 AM EDT
sandraaa
Hey
1/17/2015 2:00 AM EDT
yeet6833
Yeet
1/11/2015 12:12 PM EDT
cynalahs
Annie
1/9/2015 9:12 PM EDT
nrose101
Great film!
6/22/2013 8:16 PM EDT
Mr. & Mrs. Smith images are © 20th Century Fox. All Rights Reserved.
Mr. & Mrs. Smith images © 20th Century Fox. All Rights Reserved.