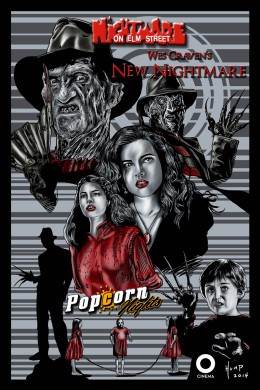 In 1984, Wes Craven unleashed Freddy Krueger and gave horror fans one awesomely terrifying madman. Robert Englund will always be Freddy to us. After the first trip to Elm Street, Craven parted with the franchise, only to return for "New Nightmare' a decade later. Since the original film and the final film (unless you count "Freddy vs. Jason" as the final film) are both celebrating anniversaries…we thought it would be the perfect time to show them as a bookended double-feature. Join Popcorn Nights at O Cinema for the first time at the much larger Miami Shores location and end out Halloween weekend with an freddy-tastic night at the movies.


A Nightmare on Elm Street is a 1984 American supernatural slasher horror film written and directed by Wes Craven, and the first film of the Nightmare on Elm Street franchise. The film stars Heather Langenkamp, John Saxon, Ronee Blakley, Amanda Wyss, Jsu Garcia, Robert Englund, and Johnny Depp in his feature film debut. Set in the fictional Midwestern town of Springwood, Ohio, the plot revolves around several teenagers who are stalked and killed in their dreams by Freddy Krueger. The teenagers are unaware of the cause of this strange phenomenon, but their parents hold a dark secret from long ago.

Craven produced A Nightmare on Elm Street on an estimated budget of just $1.8 million,a sum the film earned back during its first week. An instant commercial success, the film went on to gross over $25 million at the United States box office. A Nightmare on Elm Street was met with rave critical reviews and went on to make a very significant impact on the horror genre, spawning a franchise consisting of a line of sequels, a television series, a crossover with Friday the 13th, beyond various other works of imitation; a remake of the same name was released in 2010.

The film is credited with carrying on many tropes found in low-budget horror films of the 1970s and 1980s, originating in John Carpenter's 1978 horror film Halloween, including the morality play that revolves around sexual promiscuity in teenagers resulting in their eventual death, leading to the term "slasher film".Critics and film historians argue that the film's premise is the question of the distinction between dreams and reality, which is manifested in the film through the teenagers' dreams and their realities. Critics today praise the film's ability to transgress "the boundaries between the imaginary and real",toying with audience perceptions.

Wes Craven's New Nightmare (also known as A Nightmare on Elm Street 7: Wes Craven's New Nightmare) is a 1994 slasher metafilm written and directed by original Nightmare on Elm Street creator Wes Craven. Although it is the seventh film in the Nightmare on Elm Street franchise, it is not part of the series continuity, instead portraying Freddy Krueger as a fictional movie villain who invades the real world and haunts the cast and crew responsible for his films. While the canon Nightmare on Elm Street films are about dreams overlapping reality, this film is about films overlapping reality. In this film, Freddy is depicted as closer to what Craven originally intended, being more menacing and less comical, with a greatly updated attire and appearance.

The film features various people involved in the motion picture industry playing themselves, including actress Heather Langenkamp who is compelled by events in the narrative to reprise her role as Nancy Thompson. New Nightmare features several homages to the original film.

The screening will be hosted by Marc Ferman of PopcornNights.com & Keepitclassic.com and sponsored by Shock Pop ComicCon. Poster art by Humphrey Ching. Giveaways by NECA,80sTees.com, & 80sCards.com.

Make sure to reserve your tickets now for this exclusive one-night-only event.