Jill Wagner from Blade The Series was kind enough to answer some questions about her past, her current history on the Blade Television Series, and what the future holds for this up and coming actress, and without further ado here is that interview...
You received a bachelor's degree in management from North Carolina State University. What made you move to Los Angeles and go after an acting career?
I always felt the need to move to a big city and broaden my horizons a bit. Coming from a small town I think sometimes you tend to be a little sheltered and I wanted to experience new places and meet different types of people. The move was not all based on the decision to try my hand in acting. I always wanted to try acting in high school and college but I was too shy. I think after I graduated it was my time to either go for it or regret it for the rest of my life. I took a chance.
What were some of your early acting roles? I was the first female on the show PUNK'D, 2nd season. It wasn't a scripted show, but it was improv acting and I loved it! Ashton is a really smart guy and I learned a lot from him. All of the Mercury commercials have been really good for my career as well. I haven't had that many acting roles, I mean Blade the Series was my first series lead. (interview continues below)
Did you have any formal acting training? No formal training. I mean I have taken a few classes when I came to Los Angeles, but I didn't stay in them very long. I plan on getting a coach again so I can grow as an actress -- I still have lots to learn.
You play Kritsa on the TV adaptation of the Blade trilogy. How did you get the Blade TV series role? I auditioned like every other girl in town. It was a role that I wanted really bad as soon as I read the script.
What was involved in the audition? I think I read like 6 scenes for the casting people on a Monday, then callbacks were on a Tuesday, then on Friday I went to Network and read for all of the suits, and by that Sunday I was moving to Vancouver.
Were you a fan of the Blade Trilogy before you started on the Series? Yes, I have always been fascinated with vampire movies, books, etc.
Did you read the Blade Comic Books growing up? No, I was too busy playing with GI Joes!!!
How does filming in Vancouver compare to filming/living in L.A.? I love Vancouver. It is so beautiful there and the people are great. But my friends are here in LA, and it does get a little lonely without them.
Did you except fan reaction to be so positive to you and your character, Krista? I was kind of worried because I was so green and I just wanted to play her the way I saw here being played in my head. I wasn't sure if I could pull it off but as soon as I walked on set, it's like Jill left and Krista Starr took over. I loved playing her and I wish I was more like her.
What is your favorite scene or funniest moment while filming the series? The funniest scene is when Marcus is carrying Krista to drop her off the building in the pilot, walking out of the room Neil bangs my head against the door. (of course, he didn't mean to) Everyone on set was so quiet until I started laughing then the jokes started flying!! There was always laughs on the set. Neil is very funny and he always keeps it light on set!
How would you like to see Krista grow in the future? Well since the show got canceled I am not sure I will get to see that take place, however, if another network does plan to give us another shot I feel that Krista should start to own being who she is now, not fighting it, but using it as a weapon to help Blade.
What does it mean to you to you to have won Spikes Women of Action Title? It is an honor and I am very thankful to have such amazing fans that voted every day! I hope to go into another action role sometime soon.
"I have always been fascinated with vampire movies, books, etc."
You have had a great career in such a short amount of time. What are some other roles that you have had? Punk'd, and the Mercury Campaign has really helped my career. I had a small part as the girl in the bar on Quintuplets(don't even know if she had a name) and a small part on Monk (also another hot girl that doesn't say much role).
How did you get involved with Ashton Kutcher and Punk'd? I auditioned. My print agent sent me out on it because I didn't have a theatrical agent at the time. It was like a cattle call.
What was the greatest prank you ever pulled outside Punk'd? I told one of my agents once that Britney Spears was having a lingerie party, and to meet me on the street corner and I would pick him up. He was in his pj's for a while on the corner before he figured out I wasn't picking him up. Pretty mean huh???
Has anyone ever realized they were being Punk'd while the show was being taped? Not to my knowledge.
Have YOU ever been Punk'd? No.... not yet.
You are also the spokesperson for Mercury automobiles. In fact, you are known as "The Mercury Girl". How did YOU "Put Mercury on your list?" and get that role?
It was again a huge cattle call in Los Angeles and New York, and I guess I just got lucky.
Is it true you had only $150 in the bank when you landed that job? Yes.
You've also appeared in an amazing shoot for the wildly popular men's magazine STUFF and FHM. What was that like?SCARY....I like clothes on me in pictures, not off. But I understand that you have to do those kinds of things for the press, and those are the people we need to reach. Everyone was really cool on the shoot, but I get a little nervous on those kinds of shoots.
What other roles are slated for you in the future? Any big screen rolls coming up? I would love to do a movie with an Urban Cowboy feel to it, I am reading one right now, so who knows. I met with the guys over at Silver pictures about some things and Wonder Woman was one of them.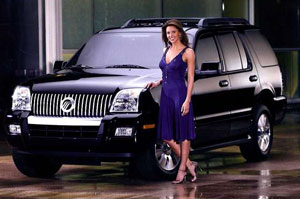 What's your dream role? To play Annie Oakley.
What mentors would you say have helped you with your acting career? I meet people in this industry every day that help me and that I learn from. As far as actresses that I enjoy, one is probably Ashley Judd and I also love Angelina Jolie.
Last but not least, our readers have to know...Do you own a Lincoln Mercury? If not what kind of car do you drive? Yes, I do, I have a mariner. I love it!
---
Jill Wagner was born and raised in Winston-Salem, North Carolina. Jill and her older brother were raised by their father, who ran a tire shop. She attended Ledford High School and then went on to attend North Carolina State University where she graduated Sigma Cume Laude in business. After college, she made the move to Los Angeles on a hunch and quickly obtained a television and film manager.

Jill made her first mark on Hollywood when she was cast as the first female regular sketch performer on MTV's hit television series PUNK'D. Following her stint on PUNK'D, Jill embarked on her journey with scripted series television and landed many notable guest-starring roles in series such as MONK for USA, QUINTUPLETS for FOX and a recurring role on DR. VEGAS for CBS. Jill also appeared in the Sony Pictures feature film GUESS WHO? as well as the independent feature films JUNE BUG, FORGOTTEN and SHIFTED.

In April of 2005, Jill was named the new Lincoln Mercury spokesperson. The popular commercials starring Jill have become a very effective campaign for Lincoln Mercury as well as affording her amazing recognition within American households.

Jill's hobbies include singing, songwriting, and dream analysis. Her fascination with dreams started at the age of ten when she began her dream journal which she continues to keep up to date.