The Purge (2013)
| | |
| --- | --- |
| Director: | |
| Writers: | James DeMonaco |
| Cast: | |
| Released: | Friday, June 7, 2013 |
| Length: | 85 minutes |
| Studio: | Universal Pictures |
| Genre: | Sci-Fi/Fantasy, Horror |
| Rating: | Under 17 requires accompanying parent or adult guardian. |
Synopsis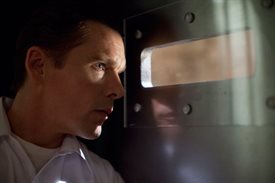 "If on one night every year, you could commit any crime without facing consequences, what would you do? In The Purge, a speculative thriller that follows one family over the course of a single night, four people will be tested to see how far they will go to protect themselves when the vicious outside world breaks into their home.

In an America wracked by crime and overcrowded prisons, the government has sanctioned an annual 12-hour period in which any and all criminal activity-including murder-becomes legal. The police can't be called. Hospitals suspend help. It's one night when the citizenry regulates itself without thought of punishment.

On this night plagued by violence and an epidemic of crime, one family wrestles with the decision of who they will become when a stranger comes knocking. When an intruder breaks into James Sandin's (Ethan Hawke) gated community during the yearly lockdown, he begins a sequence of events that threatens to tear a family apart.

Now, it is up to James, his wife, Mary (Lena Headey), and their kids to make it through the night without turning into the monsters from whom they hide."
Purchase your copy of The Purge today at
Download The Purge from iTunes.
Comments

Courtesy of
Movie Hype App
nrose101
Finally going to see what all the hype is about.
10/8/2014 11:39 PM EDT
aaliyahmontour0099
Can't wait so EXCITED??
10/6/2013 9:40 AM EDT
spoon766
Yeah buddy
8/24/2013 11:36 PM EDT
honestyfloyd
Wow
7/1/2013 7:58 PM EDT
hardmark
@LaVarricchia
6/22/2013 3:48 AM EDT
hardmark
Questo film lo consiglio al mio amico @lavarricchia e gli consiglio pure questa app icon
6/21/2013 4:39 PM EDT
oceanaj
Come on
6/11/2013 12:26 PM EDT
facebaeza
Good. something new
6/9/2013 7:58 PM EDT
tibs83
Not worth seeing lol I saw it at 10pm Thursday night with my friend at a sneak preview and half the theater laughed during it.. I'd wait till blue ray.
6/9/2013 3:47 PM EDT
bernie
Going to watch later ...
6/8/2013 5:20 PM EDT
bearsloveme9
Saw it just now! Its amazing(:
6/7/2013 9:21 AM EDT
spoon766
Yeah buddy
6/5/2013 9:59 AM EDT
msolis
Damn I have to get a adult to buy the ticket for me .__\ agh !!
6/5/2013 2:32 AM EDT
movieznsportz23
Can not wait!!!!!!!!!! Epic Epic Epic movie def one of my movies of the year
6/3/2013 7:46 PM EDT
moviewatcher2000
It would suck if This happened
5/31/2013 8:07 PM EDT
The Purge images are © Universal Pictures. All Rights Reserved.
The Purge images © Universal Pictures. All Rights Reserved.