The Fast and the Furious: Tokyo Drift (2006)
| | |
| --- | --- |
| Director: | |
| Cast: | |
| Released: | Friday, June 16, 2006 |
| Length: | 105 minutes |
| Studio: | Universal Pictures |
| Genre: | Action/Adventure |
| Rating: | Some material may be inappropriate for children under 13. |
Synopsis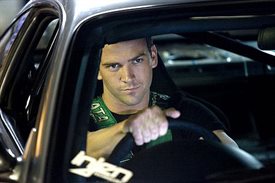 A young American named Sean Boswell travels to Tokyo to live with his father in order to avoid a jail sentence and gets involved with the underground world of drift racing.
Purchase your copy of The Fast and the Furious: Tokyo Drift today at
Download The Fast and the Furious: Tokyo Drift from iTunes.
Comments

Courtesy of
Movie Hype App
alexlopez
I wanna watch it
07/22/2013 9:59 PM EDT
The Fast and the Furious: Tokyo Drift images are © Universal Pictures. All Rights Reserved.
Charlize Theron Set to Star in Fast 8
04/07/2016 3:05 PM EDT
Charlize Theron has signed on to star in the upcoming Fast 8, the next film in the Fast & Furious franchise.  Theron will be playing a new character and joining Vin Diesel, Dwayne Johnson, Jason Statham, Michelle Rodriguez and Tyrese Gibson, among others.Theron is certainly no stranger to the action genre, having starred in Mad Max: Fury Road as well as The Italian Job, Aeon Flux and Hancock (to a...
More>>
Universal Confirms Fast and Furious 9 and 10
02/03/2016 1:52 PM EDT
It has been confirmed by both Universal Pictures, as well as Vin Diesel, that there will be a 9th and 10th Fast and Furious film.  The film will be released in 2019 and 2021, respectively.The announcement was made late Tuesday night by Diesel via his Instagram account.  His post also noted that the 8th film of the franchise, Fast 8 would have a release date of April 14, 2017, which had already bee...
More>>
Gary Gray to Direct Fast and Furious 8
10/08/2015 4:40 PM EDT
Gary Gray, straight off the heels of his "Straight Outta Compton" release, has announced on Twitter that he will be directing the upcoming Fast and Furious 8. The director tweeted a picture of the logo to make the announcement, and made it official.  The film will once again star Vin Diesel, Dwayne Johnson, Ludacris and Tyrese Gibson, as well as Jason Statham and Kurt Russell.Gray's "Straight Outt...
More>>
Dwayne "The Rock" Johnson to Return in Next Fast and Furious Film
05/18/2015 11:19 AM EDT
It has been revealed by Vin Diesel that Dwayne "The Rock" Johnson will be returning for the eighth installment of the Fast and Furious franchise.  He made the confirmation at CinemaCon.Johnson also confirmed the news when a reporter asked him about the return after a press conference for his upcoming film "San Andreas". "Of course. Can't go on without Hobbs."Johnson also commented on a possible sp...
More>>
Furious 7 Surpasses $1 Billion at the Box Office
04/27/2015 4:44 PM EDT
Universal's Furious 7 has rocketed past the $1 billion mark internationally this weekend. The film is now the third in history to surpass the astonishing amount.  The other films are Avatar ($2.027B) and Titanic ($1.528B). Furious 7 is Universal's top-grossing film ever, as of April 17.  Duncan Clark, Universal Pictures International President of Distribution, said that the achievement is "magnifi...
More>>
Win a Complimentary Pass to See an Advance Screening of Universa...
03/24/2015 8:59 AM EDT
Are you ready to take on fast cars and Vin Diesel? South Floridians can win passes to a complimentary screening of Universal Pictures' FURIOUS 7 before it is released in theaters on April 3, 2015. Enter by downloading the Movie Hype App and "following" FURIOUS 7. As a tribute to Paul Walker, mention your favorite movie of his in the comments. Winner s will be chosen at random to win screening pass...
More>>
Fast and Furious 7 Production Halted
12/04/2013 2:43 PM EDT
Production for Universal's "Fast and Furious 7″ has been halted following the death of Paul Walker.A statement was released from the studio saying, "Right now, all of us at Universal are dedicated to providing support to Paul's immediate family and our extended 'Fast & Furious' family of cast, crew and filmmakers. At this time we feel it is our responsibility to shut down production on 'Fast & Fur...
More>>
Universal Announces That A Portion of Proceeds From Home Release...
12/04/2013 10:25 AM EDT
Universal City, CA, December 3, 2013-Universal Pictures today announced that a percentage of proceeds from the upcoming home entertainment release of Fast & Furious 6 will be donated to Paul Walker's non-profit Reach Out WorldWide, a network of professionals with first responder skill-sets who augment local expertise when natural disasters strike in order to accelerate relief efforts.  Walker foun...
More>>
Lucas Black to Reprise Role in Fast and Furious 7
09/17/2013 3:12 PM EDT
Lucas Black, star of "The Fast and the Furious: Tokyo Drift", will be returning to reprise his role as Sean Boswell.The film, "Fast and Furious 7", will the third film from James Wan.  Black's deal also calls for him to star in future films of the franchise, and it is said that there is said to be an eighth and ninth film in development. Vin Diesel, Paul Walker, Dwayne Johnson, Tyrese Gibson, Jaso...
More>>
Win Complimentary Passes to See an Advance Screening of Universa...
05/10/2013 11:12 AM EDT
Get ready for some fast cars and fast action with the all new Fast & Furious 6! And for all you fans of the series that are living in South Florida, we have a way for you to catch an early complimentary screening. Simply click here to enter the sweepstakes and like us on Facebook. All names will be entered into a drawing for two complimentary tickets to see FAST & FURIOUS 6 in WEST PALM BEACH, FL,...
More>>
Fast and Furious 7 Release Date Announced
04/16/2013 3:23 PM EDT
Vin Diesel has just announced that the upcoming film, "Fast and Furious 7", will be released on July 11, 2014.The actor made the announcement at CinemaCon where he is part of a group unveiling exclusive footage from the franchise. We will bring you more about this story as soon as details develop....
More>>
Vin Diesel Hints at Seventh Fast and Furious
04/01/2013 3:45 PM EDT
Vin Diesel took to his Facebook page this past weekend to comment about his upcoming film, "Fast & Furious 6", and those comments left some thinking that there may be a seventh installment in the works already.  Below are the comments made: There was an early screening in LA this week of Fast Six. The crowd reaction was surreal... and their demand for the continuation was powerful...    It's remar...
More>>
The Fast and the Furious: Tokyo Drift images © Universal Pictures. All Rights Reserved.