The Lost World: Jurassic Park (1997)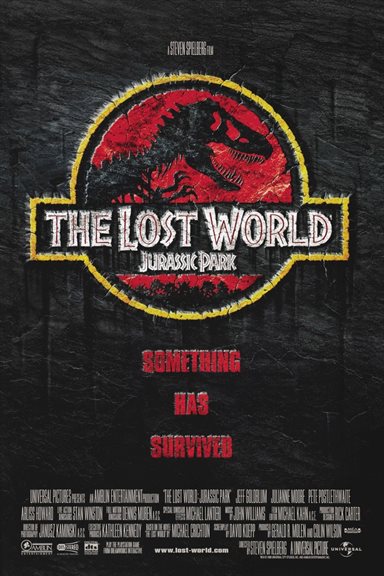 | | |
| --- | --- |
| Director: | |
| Writers: | Michael Crichton, David Koepp |
| Cast: | |
| Released: | Friday, May 23, 1997 |
| Length: | 129 minutes |
| Studio: | Universal Pictures |
| Genre: | Sci-Fi/Fantasy, Action/Adventure |
| Rating: | Some material may be inappropriate for children under 13. |
Synopsis
Four years after Jurassic Park's genetically bred dinosaurs ran amok, multimillionaire John Hammond (Richard Attenborough) shocks chaos theorist Ian Malcolm (Jeff Goldblum) by revealing that Hammond has been breeding more beasties at a secret location. Malcolm, his paleontologist ladylove (Julianne Moore) and a wildlife videographer (Vince Vaughn) join an expedition to document the lethal lizards' natural behavior in this action-packed thriller.
Purchase your copy of The Lost World: Jurassic Park today at
Download The Lost World: Jurassic Park from iTunes.
SPONSORED STORIES
Comments

Courtesy of
Movie Hype App
bolillo1989
06/11/2015 10:12 PM EDT
movieguynathan
Suffering through this so Vic can see it for first time.
04/07/2013 6:41 PM EDT
The Lost World: Jurassic Park images are © Universal Pictures. All Rights Reserved.
Jeff Goldblum Joins Cast for Jurassic World Sequel
04/26/2017 2:04 PM EDT
It has been announced that Jeff Goldblum will be returning to the Jurassic Park franchise. The actor appeared in 1993's Jurassic Park and 1997's The Lost World: Jurassic Park.Goldblum has been cast in the upcoming Jurassic World sequel alongside Chris Pratt, Bryce Dallas Howard, Justice Smith, James Cromwell and Toby Jones. He will be reprising his role as Dr. Ian Malcolm, a mathematician, and ins...
More>>
Reports Point To Universal Pictures Servers Responsible for Pira...
07/23/2015 2:51 PM EDT
Unverified reports have surfaced that Universal Pictures in France has been seeding a pirated copy of Jurassic World from its servers.The studio, which released the blockbuster film on June 12 of this year, had filed a takedown notice with Google, which demanded that they block any links to sites that lead to pirated copies of Jurassic World.  A specific block request stood out, which was a link t...
More>>
Jurassic World Takes A Dino Sized Bite Out of Box Office Records
06/15/2015 12:17 PM EDT
Jurassic World, the fourth in a series of Jurassic Park films, has become the highest grossing debut film of all time, both domestically and internationally. As of Monday morning, the film has grossed $209 million domestically and over $511 million globally. The previous record holder was 2012's Avengers film, which earned $207.4 million domestically.  Leading into the weekend Universal low-balled...
More>>
Win a Complimentary Pass to See an Advance Screening of Universa...
05/28/2015 2:31 PM EDT
Universal Pictures highly anticipated release JURASSIC WORLD opens nationwide on June 12, 2015 but South Floridians can win passes to a complimentary screening before it is released in Theaters. Enter by downloading the Movie Hype App and "following" JURASSIC WORLD. Be sure to tell us what dinosaur scares you the most and why with the hashtag #contest. We will choose the best, most original entrie...
More>>
Jurassic World a Direct Sequel to Jurassic Park, According to Di...
04/29/2015 3:56 PM EDT
Colin Trevorrow, director of the upcoming Jurassic World film, made some comments about the direction that this new film in the franchise will be taking.  Some may have noticed that the film seems to be giving off the same vibe that the original had, and according to Trevorrow, it's on purpose. "Of course, Jurassic World isn't a mere re-creation of Jurassic Park; it's a direct sequel to the origin...
More>>
Jurassic Park 4 Delayed
05/09/2013 9:10 AM EDT
"Jurassic Park 4", which originally had a release date set for June 13, 2014, has now been pushed back.     Director Colin Trevorrow is a relatively new addiction to the crew, and more time was wanted for the project to take shape.  The studio made a statement saying, In coordination with filmmakers, Universal has decided to release Jurassic Park 4 at a later date, giving the studio and filmmakers...
More>>
Planet of the Apes Scribes Penning Jurassic Park 4
06/21/2012 2:28 PM EDT
A fourth film in the "Jurassic Park" franchise is reportedly underway for Universal, and the studio is currently lining up writers for the project.Rick Jaffa and Amanda Silver (Rise of the Planet of the Apes) have reportedly been chosen to pen the script for the Steven Spielberg and Kathleen Kennedy film.  There is no word on what the film's plot will be about, but some say that the film will be g...
More>>
Jurassic Park To Be Re-Released in 3D Next Summer
03/20/2012 11:42 AM EDT
To commemorate the 20th anniversary, Universal Pictures has announced that in 2013 Stephen Spielberg's classic dino movie Jurassic Park will be returning to cinemas and this time it will be in stunning 3D.The movie which was based on the novel by Michael Crichton, and was acknowledged for its ground-breaking use of CG and animatronic went on to spawn two other movies, and starred Sir Richard Atten...
More>>
Spielberg Discusses Jurassic Park 4
01/13/2012 4:39 PM EDT
Steven Spielberg, while in France promoting "War Horse", reluctantly spoke about the upcoming "Jurassic Park 4" film that was announced last year.   When he was asked about the film, he said, "I don't want to talk about Jurassic Park 4 yet because it is too early; but I can tell you that I am not directing it.  However, I am producing it."   Rumors have been running rampant on the internet for mon...
More>>