Star Wars: Episode VII - The Force Awakens (2015)
| | |
| --- | --- |
| Director: | |
| Writers: | Michael Arndt |
| Cast: | |
| Released: | Friday, December 18, 2015 |
| Length: | 136 minutes |
| Studio: | Walt Disney Pictures |
| Genre: | Sci-Fi/Fantasy, Action/Adventure |
| Rating: | Some material may be inappropriate for children under 13. |
Synopsis
Visionary director J.J. Abrams brings to life the motion picture event of a generation. As Kylo Ren and the sinister First Order rise from the ashes of the Empire, Luke Skywalker is missing when the galaxy needs him most. It's up to Rey, a desert scavenger, and Finn, a defecting stormtrooper, to join forces with Han Solo and Chewbacca in a desperate search for the one hope of restoring peace to the galaxy.
Purchase your copy of Star Wars: Episode VII - The Force Awakens today at
Download Star Wars: Episode VII - The Force Awakens from iTunes.
Comments

Courtesy of
Movie Hype App
jeffgorow
loved the rest of the franchise, this was quite mediocre in comparison
5/19/2016 12:06 AM EDT
j-dogg
Great movie
5/13/2016 4:48 PM EDT
ironfist2300
Amazing!
5/12/2016 6:25 PM EDT
dude77
I love this movie
5/9/2016 3:24 PM EDT
ma1d1tah
For the 3rd time. Lol.
4/16/2016 6:58 PM EDT
master799
Awesome can't wait to get my hands on the best buy collectors edition steelbook case
4/15/2016 9:34 PM EDT
sanchezfam23
This movie is awesome
4/9/2016 3:20 PM EDT
josh86
I love this movie
4/4/2016 7:34 PM EDT
kexie0807
Best movie
4/1/2016 10:42 PM EDT
johnenglish
Watching again
4/1/2016 7:33 PM EDT
bpastor18
Awesome movie ever
4/1/2016 9:47 AM EDT
daasiannoob
Worst out of the whole series
3/30/2016 12:55 AM EDT
yarisbeth
I think it's going to be a good movie
3/16/2016 2:17 AM EDT
omaralm305
Coolest movie ever😎👍
3/15/2016 10:40 PM EDT
coreyanthony26
This Movie By Far is The Number 1 Star Wars Of All Time I Wonder What Happens in The 8th Movie
3/6/2016 3:46 PM EDT
Star Wars: Episode VII - The Force Awakens images are © Walt Disney Pictures. All Rights Reserved.
Confirmed: Darth Vader Will Return for Star Wars: Rogue One
6/23/2016 12:11 PM EDT
Some new details have emerged about the upcoming Rogue One: A Star Wars Story film, and fans won't be disappointed.Darth Vader will be brought back into the fold, as well as the famous voice that we all know and love, James Earl Jones. The 85 year old will reprise his iconic role, which will be used throughout the film, but sparingly. Kathleen Kennedy, Lucasfilm president, did say however, that he...
More>>
Rogue One: A Star Wars Story Reshoot Details Released
6/1/2016 10:29 AM EDT
It was announced today that Disney's "Rogue One: A Star Wars Story" was going to be doing some major reshoots, and now, some more information has surfaced about the project.  According to reports, four weeks of reshoots will be made in order to lighten the mood of the film. Since the film occurs before the "New Hope" film timeline, and will end just as the New Hope will begin, they felt the needed...
More>>
Phil Tippett Brings The World One Step Closer To Playing Star Wa...
5/9/2016 3:35 PM EDT
Every Star Wars fan knows the scene in A New Hope where C-3PO implores R2-D2 "to let the Wookie win" at a game of Holochess aboard the Millennium Falcon. The game itself, with holographic monsters moving strategically across a circular chessboard, captured the imagination of viewers and left us dreaming of the day we could play this game. Now that day is looking closer than ever. Tippett Studios a...
More>>
Alden Ehrenreich Chosen as the Next Han Solo
5/6/2016 9:51 AM EDT
Alden Ehrenreich, who recently starred in Hail, Caesar!, has been chosen to play Han Solo in Lucasfilm's yet-untitled Star Wars spinoff movie. Reports are that the actor beat out others including Miles Teller, Ansel Elgort, Taron Egerton, and Scott Eastwood.  Last year, Harrison Ford offered some advice for the next actor to play the famous Captain of the Millennium Falcon, saying, "I would say, '...
More>>
Star Wars' Greedo Speaks About Infamous Han Solo Shootout
5/4/2016 3:22 PM EDT
Paul Blake, who played Greedo in Star Wars, recently appeared in a documentary titled Elstree 1976, and commented about the infamous scene between Greedo and Han Solo.In the Special Edition re-release of the first film, the plays out with Greedo firing the first shot at Han Solo. This different from Solo firing the first shot in the original."It said it all in the original script, we played the sc...
More>>
Erik Bauersfeld, Voice of Star Wars' Admiral Ackbar, Dies at 93
4/5/2016 9:37 AM EDT
Erik Bauersfeld, who famously voiced the character Admiral Ackbar in Return of the Jedi and Star Wars: The Force Awakens, has died.  He was 93.Bauersfeld also voiced Jabba the Hut's father in that film, as well lending hi voice to Guillermo Del Toro's film Crimson Peak and Steven Spielberg's 2001 film A.I. Artificial Intelligence."The voice work I did in movies was accidental. I was working with R...
More>>
Gwendoline Christie to Return for Next Star Wars Film
2/1/2016 10:33 AM EDT
Gwendoline Christie, who was in attendance at Saturday night's Screen Actors Guild Awards, confirmed while on the red carpet that she will be returning for Star Wars Episode VIII. She will be reprising her role as Captain Phasma.She told People, "I will be in the next Star Wars movie. I think that's an exclusive, actually".Christie, who is also famed for her Game of Thrones character, Brienne of T...
More>>
The Force Awakens Final Box Office Figures for Opening Weekend S...
12/21/2015 11:55 AM EDT
The estimates are in, and Star Wars: The Force Awakens has now taken the Sunday all-time record sales with between $60.2M-$61.1M.  This now brings the total opening box office sales at somewhere between $248.5M-$250.3M, a staggering amount of money. The film has broken Jurassic World's third day record of $57.2M and has now earned the title of top opening weekend of all-time at the domestic box of...
More>>
Daniel Craig Makes Stormtrooper Cameo in Star Wars
12/18/2015 10:55 AM EDT
Back in May, at the London premier for Man Up, Simon Pegg was asked about his Star Wars cameo, and let it slip that Daniel Craig was also making a cameo appearance.  However, after he said that, he quickly regretted it, saying, "I shouldn't have said that."Craig was asked about the slip up and denied the rumor, saying "Why would I ever bother doing something like that? F-ing hell! Pffft. Play an e...
More>>
Mark Hamill Confirms Star Wars VII Role via Twitter
11/24/2015 3:55 PM EDT
Mark Hamill made fans happy the other day when he tweeted about his upcoming role in Star Wars VII, as well as mentioning his beard. Hamill, who isn't present in any of the marketing that has occurred for the Star Wars: Episode VII - The Force Awakens, tweeted -  "Last shaved on 10/22 after final day of my 2nd #TheFlash (which airs 12/8 #XmasTrix), just in time for Ep VIII-whew!"While Hamill's cha...
More>>
Dying Star Wars Fan Gets Early Screening for Star Wars:The Force...
11/6/2015 11:01 AM EDT
Disney has mad a dream come true for a long time "Star Wars" fan.  32 year-old Daniel Fleetwood, who is terminally ill with spindle cell sarcoma, a rare form of connective tissue cancer, was granted a wish to see an unedited version of "Star Wars: The Force Awakens".  The campaign began online with #ForceForDaniel and recently gained support from "Star Wars" actors Mark Hamill, Peter Mayhew and Jo...
More>>
Lightsabers and Masks Banned From Upcoming Star Wars Screenings
11/2/2015 4:22 PM EDT
Star Wars: The Force Awakens opens on December 18, and inevitably, there will be some fans who want to dress up for the event. But, if you plan on seeing the film at a Cinemark Theater, you will need to leave your lightsabers, and masks, at home. Cinemark announced the ban on some advertising posters, stating,  "Star Wars costumes are welcome. However, no face coverings, face paint or simulated we...
More>>
Star Wars: Episode VII - The Force Awakens Theatrical Review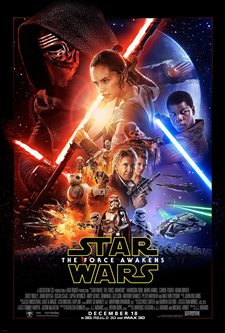 In 1977, the words "A long time ago in a galaxy far, far away... " kicked off what would become one of the largest pop culture phenomenons in history, the Star Wars saga. The six films, countless TV shows, books, and video games that have been released have created their own little niche in today's society the world over.

Now, 32 years after the debut of the original film, Disney, with the help of director J. J. Abrams (Mission Impossible: III), have come to pick up the wreckage of the series. After the much hated prequel films, Abrams seeks to bring back the glory with Star Wars: The Force Awakens.

In 2012, George Lucas, the creator of the saga, sold Star Wars to Disney for $4.05 billion, relinquishing the reigns of the series that was near and dear to his heart. Until this point, fans around the world had thought the film series had ended with the Revenge of the Sith in 2005, as this is what Lucas had hinted at, but fans were given hope when Disney announced the plans to release a plethora of new films based in the universe, including Episodes VII, VIII and IX, which continues the story of the Skywalker family line.

Episode VII, The Force Awakens, begins 30 years after the famous battle on Endor, as well as the destruction of the second death star, with the galaxy in disarray. Gone is the evil galactic empire, but in it's ashes, a new enemy, called the First Order, has taken up in it's place, threatening the galaxy's peace and posterity.

Saying anymore will give away all the great surprises that the film holds in store for its audience. Rest assured though all the characters you know and love return, as well as some new ones that will quickly find a place in your heart.

In addition to the old Star Wars cast that audiences have grown up with, a new, all-star cast has been brought in to be the centerpiece of this new trilogy including relative newcomers Daisy Ridley, John Boyega (Attack the Block), Adam Driver (Girls), and Oscar Isaac(Ex Machina). The actors seem made to embody each of their respective roles and truly are great additions to the Star Wars universe. Gone are the wooden one dimensional characters from the prequel films. They are replaced with three dimensional characters that have more to them than what appears on the surface. Daisy Ridley easily steals the show and will be someone who will grace the silver screen for a long time to come.

Coming back to script, the film was written by director JJ Abrams and Empire Strikes Back writer Lawrence Kasdan, and they do not disappoint. The script is smart, fresh and, surprisingly, filled with humor. Gone are most of the childish elements that made fans of the original trilogy cringe, and in it's place, is dialog and scenes that are there to help move the story along.

If one has followed JJ Abram's career, one would know that he is a very capable director who, truly, is one of the best in the industry. For The Force Awakens, he has brought his "A" game to the table. While JJ Abrams normally pours his heart and soul into whatever film he is working on he gave everything he had into making this film into what the fans would want. Being first and foremost a fan of the saga himself, he wanted to make a film he knew he and other fans would enjoy and overall he does not disappoint.

The only true disappointment that can be found with The Force Awakens is the score, composed by Star Wars and industry veteran John Williams. While certain score elements from the other films can be found through the 135 minute run time, the rest of the score is very forgettable. No new themes that played through the film are memorable, and this truly is a let down for a film in a series that has some of the best scores done in the history of cinema.

The Force Awakens is an amazing film, using elements from the original classic trilogy that people have come to know and love as well as adding an incredible young cast that give it it's own originality. It is a smart, fun, clever film that easily takes the mantle as the best Star Wars film released since Empire Strikes Back.
Read More Star Wars: Episode VII - The Force Awakens Reviews
For more reviews please visit our film/television review section.
Brad Bird gave up directing this film to make Disney's Tomorrowland.