Harry Potter and the Prisoner of Azkaban (2004)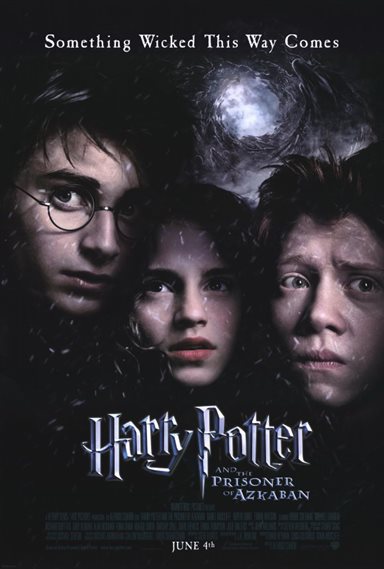 | | |
| --- | --- |
| Director: | |
| Cast: | |
| Released: | Friday, June 4, 2004 |
| Length: | 142 minutes |
| Studio: | Warner Bros. |
| Genre: | Sci-Fi/Fantasy |
| Rating: | Some material may not be suitable for children. |
Synopsis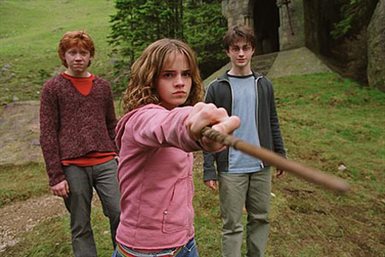 In Harry Potter and the Prisoner of Azkaban, Harry, Ron and Hermione, now teenagers, return for their third year at Hogwarts, where they are forced to face escaped prisoner, Sirius Black, who poses a great threat to Harry. Harry and his friends spend their third year learning how to handle a half-horse half-eagle Hippogriff, repel shape-shifting Boggarts and master the art of Divination. They also visit the wizarding village of Hogsmeade and the Shrieking Shack, which is considered the most haunted building in Britain. In addition to these new experiences, Harry must overcome the threats of the soul-sucking Dementors, outsmart a dangerous werewolf and finally deal with the truth about Sirius Black and his relationship to Harry and his parents. With his best friends, Harry masters advanced magic, crosses the barriers of time and changes the course of more than one life. Directed by Alfonso Cuaron and based on J.K. Rowling 's third book, this wondrous spellbinder soars with laughs, and the kind of breathless surprise only found in a Harry Potter adventure.
Purchase your copy of Harry Potter and the Prisoner of Azkaban today at
Download Harry Potter and the Prisoner of Azkaban from iTunes.
SPONSORED STORIES
Harry Potter and the Prisoner of Azkaban images are © Warner Bros.. All Rights Reserved.
Natalia Tena to Join Celebration of Harry Potter
12/14/2017 4:51 PM EST
Universal Orlando Resort will be holding "A Celebration of Harry Potter" in January and they have announced that Natalia Tena will be joining the party.Other stars to make appearances will be Stanislav Yanevski (Viktor Krum), Bonnie Wright (Ginny Weasley) and James and Oliver Phelps (Fred and George Weasley). This will be Tena's first ever appearance at the event.Tena joined the cast of the Potter...
More>>
Celebrate The Holidays This Year at The Universal Orlando Resort
11/21/2017 8:35 AM EST
When The Wizarding World of Harry Potter opened at The Universal Orlando Resort in June of 2010 it instantly became the vacation destination for die-hard Harry Potter fans worldwide.  It soon spawned the annual Celebration of Harry Potter three day weekend event that is now going into its fourth year.  Adding to the excitement, Universal announced the inception of Christmas in the Wizarding World ...
More>>
Bonnie Wright to Return for Universal Orlando's Celebration of H...
11/20/2017 4:23 PM EST
Universal Resort Orlando and Warner Bros. will be holding A Celebration of Harry Potter, an event that will take place on January 26-28, 2018, and some new details have been announced.Bonnie Wright, who played Ginny Weasley, will once again be attending the event as well as Stanislav Yanevski (Viktor Krum) and James and Oliver Phelps (Fred and George Weasley). Also on the schedule will be panels f...
More>>
The Wizarding World of Harry Potter to Get New Christmas Experience
04/13/2017 10:55 AM EST
This year, Universal Orlando will be serving up something new at Christmastime.  The resort announced today that a new Christmas experience is coming to The Wizarding World of Harry Potter as part of its destination-wide Holiday celebration, which will run from  November 18, 2017, to January 6, 2018.  This November, the new Christmas experience in The Wizarding World of Harry Potter will give gues...
More>>
Jude Law Cast as Young Dumbledore in Fantastic Beasts Sequel
04/12/2017 12:49 PM EST
Jude Law has been cast to play a young Dumbledore in the upcoming sequel to "Fantastic Beasts and Where to Find Them".  Law will join not only Eddie Redmayne in the cast, but Johnny Deep as well. David Yates will be returning to direct the sequel.  "Fantastic Beasts and Where to Find Them" grossed over $812 million worldwide. It follows the story of  Newt Scamander, a British wizard and "magizoolo...
More>>
Universal Orlando's 'A Celebration of Harry Potter' 2017 Keeps T...
01/30/2017 8:51 AM EST
It's been 20 years since the first Harry Potter book was published and since that time there have been six other books, eight movies, a spin-off book and movie series called "Fantastic Beasts and Where To Find Them", an online community, theme park rides and legions of fans now spanning multiple generations.  The frenzy surrounding the boy who lived and the one who shall not be named shows no sign...
More>>
Experience Behind the Scenes Magic at Universal Orlando's 'A Cel...
12/08/2016 10:32 AM EST
Universal Studios and Warner Bros. announced today it would once again host A Celebration of Harry Potter at Universal Studios in Orlando Florida from January 27 to 29, 2017.  The fourth annual event will   allow guests the opportunity to celebrate J.K. Rowling's Wizarding World with a variety of exclusive experiences and attend the largest Harry Potter Expo in event history, featuring more partne...
More>>
Fantastic Beasts to Encompass a Five-Film Franchise
10/14/2016 10:58 AM EST
While attending a global event for Warner Bros. Fantastic Beasts And Where To Find Them, J.K. Rowling announced that there will be a total of five films in the Harry Potter spin-off franchise.  Originally, Rowling stated the franchise would be a trilogy. The event also featured  he first 10 minutes of the movie and a featurette.The first film stars Eddie Redmayne and will be released on November 1...
More>>
A Celebration of Harry Potter Event at Universal Orlando 2016 Ta...
11/10/2015 1:07 PM EST
Orlando, Fla. (November 10, 2015) - Harry Potter film stars Rupert Grint, Bonnie Wright, Matthew Lewis, Evanna Lynch and Katie Leung will appear at "A Celebration of Harry Potter" - a special event hosted by Universal Orlando Resort and Warner Bros. Consumer Products. Creative talent also set to appear includes Pierre Bohanna, head prop maker for the Harry Potter film franchise, Paul Harris, the w...
More>>
New Potter Play to be Titled Harry Potter and the Cursed Child
06/26/2015 10:12 AM EST
J.K. Rowling has announced that she will be opening her Harry Potter play in London's West End next year.  The play will be titled Harry Potter and the Cursed Child. Rowling made the announcement on the 18th anniversary of when Harry Potter and the Philosopher's Stone was debuted. Even though she isn't discussing the plot as of yet, Rowling said that it will explain the death of Harry's parents as...
More>>
Eddie Redmayne Confirmed for Fantastic Beasts
06/02/2015 9:52 AM EST
A couple of weeks ago, we reported that Eddie Redmayne was the favorite to be cast in the upcoming Harry Potter prequel, Fantastic Beasts And Where To Find Them, and now the news has been confirmed that he will, in fact, be starring in the film. The announcement was made yesterday by Warner Bros.Redmayne will be playing the role of Newt Scamander. Fantastic Beasts will be directed by David Yates, ...
More>>
Eddie Redmayne a Favorite for Fantastic Beasts
05/12/2015 3:58 PM EST
Eddie Redmayne, who won an Oscar for his performance in "The Theory of Everything", has reportedly been offered a role in the upcoming film "Fantastic Beasts".  Redmayne would play Newt Scamander.The film is a spin-off of the hugely popular "Harry Potter" series.  The story takes place in New York, about 70 years before the Harry Potter timeline.  It follows the life and adventures of Newt Scamand...
More>>
Harry Potter and the Prisoner of Azkaban 4K Ultra HD Review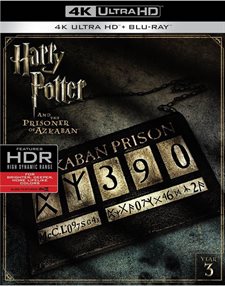 As Harry Potter returns to Hogwarts School of Witchcraft and Wizardry for his third year, he once again faces an unknown foe in Harry Potter and the Prisoner of Azkaban. Eagerly awaited by fans back in 2004, this third installment of the popular series also saw a changing of the guard with Director Alfonso Cuaron (Gravity) replacing Chris Columbus (Home Alone) at the helm. This meant that while the series had a good, solid foundation, this third film was a little darker as well as more artistic than the previous two movies. No longer was the audience a casual observer peeking into this magical world but suddenly we were completely enveloped in the drama and action.

As Harry gets ready for another year at school he, along with everyone else, is aware that Sirius Black (Gary Oldman; The Dark Knight) has escaped from Azkaban prison and is coming for Harry. What we don't know is why. There is also a new Professor at Hogwarts, Professor Lupin (David Thewlis; The Theory of Everything) who holds his own dark secrets. As these two men converge at the famed school we find out more personal details about Harry, his parents and the details leading to their untimely deaths. Not to be missed is also Hermione Granger (Emma Watson; The Perks of Being a Wallflower) time traveling through the semester.

While not my number one favorite film in the series, Harry Potter and the Prisoner of Azkaban certainly ranks up there in my top three. As previously mentioned, Cuaron gives us a much more stylized film with sweeping angles and great shots. He also delivers a more mature and complete picture of Harry and his friends Hermione and Ron Weasley (Rubert Grint; Snatch). Though not easy to take over from another, successful Director Cuaron did a great job and paved the way for David Yates (The Legend of Tarzan) to build upon in the fourth installment as he helped move the series from childlike wonder into deeper, darker places than previously explored.

The 2160p high definition video is certainly a treat for fans of the film who already own the Blu-ray version. While there is a coldness that permeates the movie the Blacks have a warmth and depth to them that helps engross the viewer completely. The colors are full and rich with little noise found anywhere. The DTS: X audio is outstanding and once again accentuates another one of legendary John Williams' (Star Wars: Episode IV – A New Hope) soundtracks. The mix is nice with music and effects not overpowering the dialogue that sits comfortably in the center channel.

The set comes with the 4K Blu-ray Disc, Blu-ray disc, and the Ultraviolet Digital Copy. The extras sit on the traditional Blu-ray and is previously released material including Behind The Story broken into the following segments: Creating The World of Harry Potter Part 3: Creatures, Inside The Creature Shop, The Magic Touch Of Harry Potter, Harry Potter And The Prisoner of Azkaban: Something Wicked This Way Comes, The Making of Harry Potter and the Prisoner of Azkaban, An Interview in Spanish With Alfonso Cuaran, plus Trelawney's Crystal Ball Deleted Scenes, and Trailers.

With the upgrade in technology, it is no wonder the Harry Potter series has been given the updated release. These films are ripe for the newest and best and the transfers are very well done. Among the best is Harry Potter and the Prisoner of Azkaban with its excellent audio and video quality. The 4K version enhances the story and the viewing pleasure and is well worth the price. Honestly, any Harry Potter fan with a 4K Blu-ray player should invest in the whole series but if you want to pick one film to "test it out" before buying them all, you can't go wrong with this one.

Grade: A-
For more reviews please visit our film/television review section.
Harry Potter and the Prisoner of Azkaban images © Warner Bros.. All Rights Reserved.