Harry Potter and the Order of the Phoenix (2007)
| | |
| --- | --- |
| Director: | |
| Cast: | |
| Released: | Wednesday, July 11, 2007 |
| Length: | 138 minutes |
| Studio: | Warner Bros. |
| Genre: | Sci-Fi/Fantasy |
| Rating: | Some material may be inappropriate for children under 13. |
Synopsis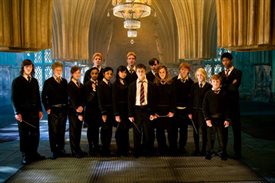 As his fifth year at Hogwarts School of Witchcraft and Wizardry approaches, 15-year-old Harry Potter is in full-blown adolescence, complete with regular outbursts of rage, a nearly debilitating crush, and the blooming of a powerful sense of rebellion. It's been yet another infuriating and boring summer with the despicable Dursleys, this time with minimal contact from our hero's non-Muggle friends from school. Harry is feeling especially edgy at the lack of news from the magic world, wondering when the freshly revived evil Lord Voldemort will strike. Returning to Hogwarts will be a relief... or will it?
Purchase your copy of Harry Potter and the Order of the Phoenix today at
Download Harry Potter and the Order of the Phoenix from iTunes.
Harry Potter and the Order of the Phoenix images are © Warner Bros.. All Rights Reserved.
New Potter Play to be Titled Harry Potter and the Cursed Child
6/26/2015 10:12 AM EDT
J.K. Rowling has announced that she will be opening her Harry Potter play in London's West End next year.  The play will be titled Harry Potter and the Cursed Child. Rowling made the announcement on the 18th anniversary of when Harry Potter and the Philosopher's Stone was debuted. Even though she isn't discussing the plot as of yet, Rowling said that it will explain the death of Harry's parents a...
More>>
Eddie Redmayne Confirmed for Fantastic Beasts
6/2/2015 9:52 AM EDT
A couple of weeks ago, we reported that Eddie Redmayne was the favorite to be cast in the upcoming Harry Potter prequel, Fantastic Beasts And Where To Find Them, and now the news has been confirmed that he will, in fact, be starring in the film. The announcement was made yesterday by Warner Bros.Redmayne will be playing the role of Newt Scamander. Fantastic Beasts will be directed by David Yates, ...
More>>
Eddie Redmayne a Favorite for Fantastic Beasts
5/12/2015 3:58 PM EDT
Eddie Redmayne, who won an Oscar for his performance in "The Theory of Everything", has reportedly been offered a role in the upcoming film "Fantastic Beasts".  Redmayne would play Newt Scamander.The film is a spin-off of the hugely popular "Harry Potter" series.  The story takes place in New York, about 70 years before the Harry Potter timeline.  It follows the life and adventures of N...
More>>
A Celebration of Harry Potter Event at Universal Orlando
2/4/2015 9:31 AM EDT
During the weekend of January 30th, 2015, the 2nd annual Celebration of Harry Potter occurred at Universal Orlando, hosted by Universal Orlando and the Warner Bros. Entertainment. During this three-day celebration, Harry Potter fans worldwide came together to celebrate their love of the world created by author J.K. Rowling.Some of the highlights of this three-day extravaganza included: Au...
More>>
Harry Potter Star Robbie Coltrane Brought to Orlando Hospital
1/30/2015 2:41 PM EDT
Robbie Coltrane, who is best known for his role of Rubeus Hagrid in the Harry Potter films, has been taken to a hospital after complaining of flu-like symptoms while on a flight heading to Florida. The actor was heading to Orlando for the "Celebration of Harry Potter" convention that is taking place at Universal Studi...
More>>
Three-Day Harry Potter Event to Feature Film Talent Q&A Sess...
11/6/2014 2:25 PM EDT
Orlando, Fla. (November 6, 2014) - Harry Potter film talent Robbie Coltrane, Michael Gambon, James Phelps, Oliver Phelps and Evanna Lynch are slated to appear at the second annual "A Celebration of Harry Potter" - a special event hosted by Universal Orlando Resort and Warner Bros. Entertainment. The event allows fans to celebrate all of Harry's adventures, from the beloved books to the feature fil...
More>>
Rowling's Fantastic Beasts and Where to Find Them Will Be a Sequel
3/31/2014 3:42 PM EDT
J.K. Rowling's "Harry Potter" spin-off films, "Fantastic Beasts and Where to Find Them", will be a trilogy according to the New York Times.The series was announced in Spetemmber, and Warner Bros. CEO Kevin Tsujihara said that he hoped to "build a film franchise" from the project.  The films will be based on Rowlings book by the same, which was a textbook published between the fourth and fifth...
More>>
New Harry Potter Inspired Film on Horizon
9/12/2013 9:19 AM EDT
Warner Bros. Entertainment today announced an expanded creative partnership with world-renowned, best-selling author J.K. Rowling. At the center of the partnership is a new film series from Rowling's world of witches and wizards, inspired by Harry Potter's Hogwarts textbook "Fantastic Beasts and Where to Find Them" and the adventures of the book's fictitious author, Newt Scamander. The announcemen...
More>>
Daniel Radcliffe Admits To Being Drunk On The Set of Harry Potter
2/6/2012 1:22 PM EDT
One of the world's most recognizable people,  Daniel Radcliffe, admitted that while filming some scenes for the "Harry Potter" movies he was actually drunk.  According to Radcliffe in an interview, this condition occurred during a period in his life where he was drinking "nightly.""I have a very addictive personality. It was a problem. People with problems like that are very adept at hiding i...
More>>
Harry Potter Cast Answers Fan Questions At Harry Potter Event at...
11/16/2011 10:47 AM EDT
To celebrate the home video release of the last film in the Harry Potter saga, Harry Potter and the Deathly Hallows Part 2, Warner Bros. Home Entertainment and Universal Studios Orlando teamed up and held a celebration.  During the long three-day weekend, numerous stars came to the Wizarding World of Harry Potter to discuss the film series, visit the theme park centered on the Harry Potter franchi...
More>>
Warner Bros. and Universal Studios Bring out a Star Studded Cast...
11/14/2011 10:56 PM EDT
The stars were out the night of Saturday November 12, 2011 at new Harry Potter village Universal Studios Islands of Adventure Theme Park Orlando, Florida for the Harry Potter and the Deathly Hallows Part 2 Blu-ray release celebration.  Being on the carpet at this amazing event was a thrill with a background of Hogwarts and Hogsmede surrounding the 100-foot red carpet.  Press from all over the worl...
More>>
Harry Potter DVD And Blu-rays to be Pulled From Shelves
10/25/2011 11:54 AM EDT
Harry Potter fans will have to be sure they rush out to get their copies of any missing DVDs or Blu-Rays from their collections. As of December 29 of this year, Warner Bros. will stop shipping all copies of the films.This surprise move will give fans only a two month window to go out and grab the latest in the series, "Harry Potter and the Deathly Hallows - Part 2", as well as the "Complete 8-Film...
More>>
Harry Potter and the Order of the Phoenix images © Warner Bros.. All Rights Reserved.