Lady and The Tramp (1955)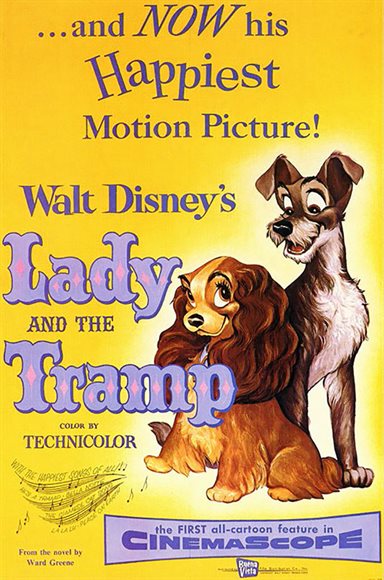 | | |
| --- | --- |
| Director: | |
| Cast: | |
| Released: | Thursday, June 2, 1955 |
| Length: | 75 minutes |
| Studio: | Walt Disney Pictures |
| Genre: | Animation/Family |
| Rating: | General audiences. All ages admitted. |
Synopsis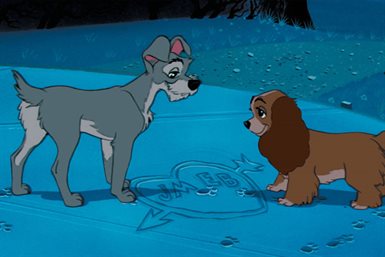 When Aunt Sarah moves in with her devious felines Si and Am to baby-sit, the very protective Lady soon finds herself being fitted for the unthinkable -- a muzzle! In her bid for freedom, she meets and is charmed by Tramp, dog-about-town. Together with friends Jock, Trusty, and Peg, they share thrilling adventures on an enchanting evening as Lady learns what it means to be footloose and leash-free.
Purchase your copy of Lady and The Tramp today at
SPONSORED STORIES
Lady and The Tramp images are © Walt Disney Pictures. All Rights Reserved.
Lady and The Tramp Blu-ray Review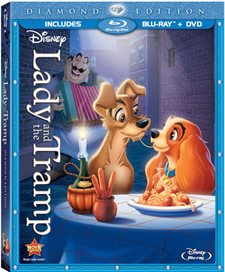 Enhanced with High Definition, Lady and the Tramp has been released on Blu-ray for the first time. The format gives the animated film more color and sharpness that was missing when it was released in the original VHS Video format.

The story of Lady and the Tramp has been around since its release in 1955, and the tale has never lost its luster. It's Christmas time and Jim Dear (Lee Millar) gives his wife, Darling Dear (Peggy Lee), a gift of a puppy that she names Lady, a golden cocker spaniel. We watch her grow, dealing with a couple of silly cats, meeting neighbor friends and essentially enjoying life when meets up with a mongrel dog who calls himself the Tramp (Larry Roberts), a vagabond that lives by the railroad tracks. This sets up a romance that's a delight to watch, which includes the famous scene at Tony's during their romantic dinner. But like in every relationship there's a downside.

The film, which features many other characters such as dogs, and a beaver, takes us on a journey that shows acts of bravery, kindness and comedy, as well as a glorious future for the characters. This classic is very kid friendly. Lady and the Tramp will always remain a family favorite among Disney movies. Memorable music like Bella Notte and The Siamese Cat songs are also featured in the film.

Disney has done an amazing job restoring the picture quality of this Disney classic to Blu-ray. The animation is first-rate, and the colors come through vividly and are not muted. Even though the soundtrack for this film was originally released in mono, Disney has also done a great job removing all the noise from the original soundtrack and it sounds extremely crisp and clear. Watching this Disney classic on Blu-ray is a real experience that families will enjoy over and over.

Although most of the Bonus features are adult level the whole family still can participate in the showing of them on Blu-ray and DVD.

Blu-ray Bonus:
Disney Second Screen: Inside Walt's Story Meetings*
Audio Commentary: Inside Walt's Story Meetings
Diane Disney Miller: Remembering Dad
Three Never-Before-Seen Deleted Scenes
Never Recorded Song: "I'm Free as the Breeze"

Classic DVD Bonus:
Lady's Pedigree: The Making of Lady and the Tramp
Finding Lady: The Art of the Storyboard
Original 1943 Storyboard Version of the Film
PuppyPedia: Going to the Dogs
"The Siamese Cat Song," Finding a Voice for the Cats
"Bella Notte" Music Video
Trailers
Excerpts from "Disneyland" TV Shows

-- John Delia
For more reviews please visit our film/television review section.
Lady and The Tramp images © Walt Disney Pictures. All Rights Reserved.