Poseidon Blu-ray Review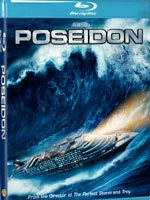 The idea behind disaster movies is to show us something both awesome and terrible. The audience is given a sense of scale that is supposed to amplify the horror of the event. We then get a tension- filled climax where the initial survivors are threatened by the aftermath. For Earthquake, it was a model of Los Angeles that was painstakingly destroyed. In The Towering Inferno, it was a humongous skyscraper. In 1972's, The Poseidon Adventure, it was a luxury ocean liner that turned upside-down before sinking.
In the 2006 remake, we get a variety of stars (including Kurt Russell and Richard Dreyfuss), a CGI disaster, and a collection of glorious sets that get turned upside-down and flooded with water. In an age where most of our disaster movies tend to be ecologically centered, it is nice to see a back-to-basics approach; and at 98 minutes, it is pretty clear that the creators of Poseidon knew they had to get straight to the disaster with very little diversion.
The disaster itself, more or less, deserves the big screen; and thus, it is a good pick for a high-def Blu-Ray edition. The Dolby soundtrack is simply amazing, and the colors are perfect. The extras on the other hand are limited, and while the making-of stuff is always welcome, I think the History Channel's Rogue-Wave documentary indicates they were stretching.
Poseidon is an absolutely by-the-numbers disaster movie. It is also a remake; and it is not clear why they felt the original either needed to be remade. The original was a blockbuster success, but that was 1972, the golden-era of disaster movies. None of the actors give a history-making performance, and while the special effects are, indeed, reasonably special, the bar for being truly amazing is, quite frankly, very high. Poseidon does give us the disaster; it does turn a massive, magnificent ship upside-down, but that by itself isn't enough to get a top score.
I am rating Poseidon a 'C' because it falls squarely into the category of a summer blockbuster. It might be fun to watch, but it is ultimately forgettable, and not as enjoyable on a 56" screen as it is on a the silver screen.
About Marco Chacon
comments powered by

Disqus