The Mummy: Tomb of the Dragon Emperor Theatrical Review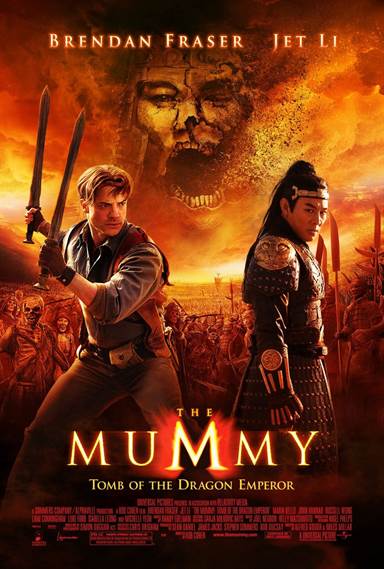 It has been seven years since the O'Connell's were on the silver screen, and they are back this summer in The Mummy: Tomb of the Dragon Emperor. However, unlike past mummy films, this is one that should have stayed buried in its tomb.
Brendan Fraser returns as explorer Rick O'Connell to combat the resurrected Han Emperor (Jet Li) in an epic that races from the catacombs of ancient China high into the frigid Himalayas. Rick is joined in this all-new adventure by his son, Alex (Luke Ford), wife, Evelyn (Maria Bello), and her brother, Jonathan (John Hannah). This time, the O'Connell's must stop a mummy that has been awoken from a 2,000-year-old curse who threatens to plunge the world into his merciless, unending service.
The new director, Rob Cohen (
The Fast and The Furious
, xXx), takes us from the sands of Egypt to China for this third outing of the Mummy. Imotep is still left in the underworld, and this time around the Chinese emperor Han is the villain. While Cohen is normally known for his sleek polished films, he just appears to have dropped the ball in every possible direction on The Mummy: Tomb of the Dragon Emperor.
While the Mummy films (
The Mummy
and
The Mummy Returns
) have never been known for their plotlines or acting, they had a certain nostalgia feel to them -- harkening back to the days of "old Hollywood", where the studios filmed on sets and took you to exotic locations (with updated special effects). However, without Steven Summers in the director's chair, the elements that always made the Mummy films feel so quaint are entirely lost. With Summers now only the producer, the Mummy is left with unbelievably horrible acting (even from Brandon Frasier and Maria Bello), a very weak plot, and action seems that are horrible. While the special effects for The Mummy: Tomb of the Dragon Emperor are top notch, it appears they did not leave any money to be spent on anything else (including casting the secondary leads by actors who have some acting skills).
The only smart person with this entire production appears to be Rachel Weiz (Eve O'Connell from the Mummy and Mummy Returns). Since she was smart enough not to reprise her role. One can only hope that if next summer's G.I. Joe, by Steven Summers, creates a franchise, Rob Cohen will not be chosen to follow in his footsteps.
Read More Reviews For The Mummy: Tomb of the Dragon Emperor
About Nathan M Rose
comments powered by

Disqus