Fast & Furious Theatrical Review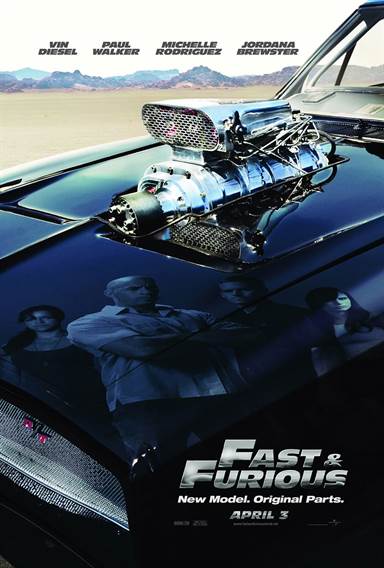 The idea to simply give the fourth movie the same name as the first was either brilliant or idiotic, and as it broke all previous records for car/movie openings and April openings -- I am going to have to go with brilliant! The franchise was never exactly brain-food, but had managed to deliver high-octane racing action overlayed with a crime-drama that featured charismatic criminals -- notably, in the first one,
Vin Diesel
, who is one of the most charismatic action hero actors we have got.
The fourth Fast and the Furious takes place before the third; it introduces the Japanese character from the third, recalls the cast from the first, and continues the action. It opens with a 20-minute prologue that was directed by Vin Diesel and is sufficiently kinetic to prove he has the chops for it.
There are sufficient racing scenes in the movie to satisfy the formula -- the cars are as fierce as you would expect; fantasy cars for a fantasy world where crime requires ultra-fast and skilled drivers, and has gun-molls and femme-fatal dames aplenty. Diesel is still a charismatic force of nature. In the original movie, the CGI technicians gave his car less wheel-wiggle because of the Zen-like calm he has when driving. Here he manages to look calm without looking like he is detached or in front of a green-screen --a pretty amazing feat, really.
True to its name, Fast and Furious, never really lets up; director Justin Lin, who did the third, Tokyo Drift, which I liked, has a good sense of pacing and action, as a police procedural or crime drama? Not so tight, but that has never been the point. The real draw, I think, is Diesel, and the film uses him well. He has the physical presence and the screen presence to command the picture without totally overshadowing the supporting roles.
Over all Fast and the Furious is a fast-paced movie that had enough horse-power to keep my attention the whole way through. As a committed Vin Diesel fan, it was good to see him back in the driver's seat. Bringing back the other cast members, gave the film a sort of "organic" feel -- existing in the same universe the rest of them. It is my understanding that they're making a fifth film; while the Fast and Furious isn't my favorite franchise, I'll keep going to see them, if they keep making them this entertaining.
About Marco Chacon
comments powered by

Disqus