Ocean's Thirteen Theatrical Review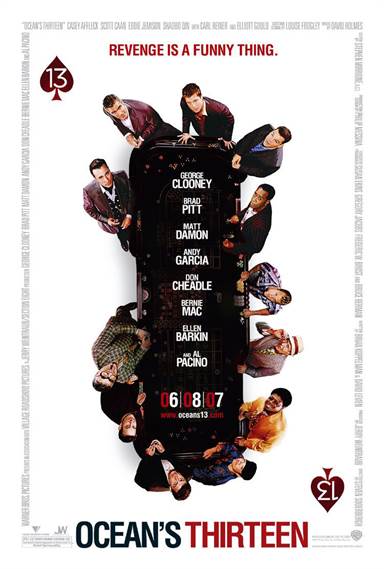 The Ocean's movies have always, fundamentally, about getting George Clooney, Matt Damon, and Brad Pitt together and having them look cool. In fact, all you need to know about this movie is at the end of the trailer: the three of them sit there, in shades and suits, saying nothing, looking cool.

If that doesn't sell you on the movie all by itself, you might want to pass.

But it's enough high-wattage star-power to light Vegas for a hundred and twenty two minutes so if it isn't effecting you ... it might just be you.

The Ocean's crew are all about wildly improbable capers and heists. The movie doesn't play fair with the audience in that when you're watching the film is always a step or two ahead of you and you only catch up (if barely) at the end (and some of it you may still have to reason out). What did they plan for vs. what goes wrong unexpectedly? Who really has the upper hand at each point? What are they talking about during those scenes that open in the middle of a conversation?

All of these questions have one basic answer for Ocean's 13: The chunnel bore drill is bullshit. Yes, that's right--it sounds like a non-sequitor but I promise you that if you spend too much time trying to figure out the movie you will run into an impenetrable wall of bullshit through which sense or plot cannot pass.

That's okay though, because, like I said, these guys are all incredibly likable. And, in Ocean's style, the bad guy, played to the hilt by Pacino is easy to hate. This is a big advantage to the movie: rooting for con men is always fun.

Where 13 also shines is the sets. Yeah--you read that right. The casino in the movie is opulent. It's got character. Maybe it's ostentatious ... but have you ever been to Vegas? They did a hell of a job on it. Getting to watch the scenes unfold in this environment (another recently seen Vegas-flick Smokin' Aces looks positively low-budget compared to the sweeping sets in 13) is part of the charm.

Ocean's 13: light, likable, and at its core it doesn't make any sense ... but man do George, Matt, and Brad look good in those suits.
About Marco Chacon
comments powered by

Disqus