Superman Returns Theatrical Review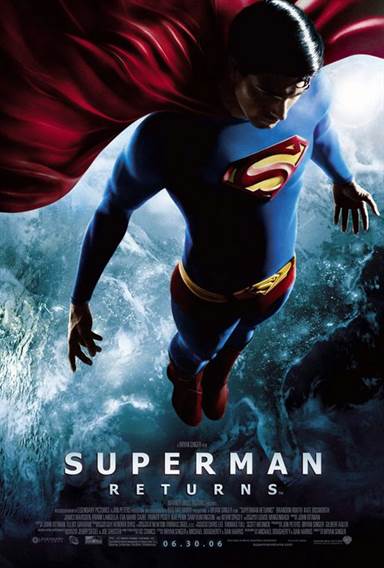 Superman flies right back into the viewer's hearts with this latest reincarnation after a 19-year hiatus.
This time around the man of steel is played by newcomer Brandon Routh, with Kevin Spacey taking over the role of the man of steel's arch nemesis, Lex Luthor, and famed director, Bryan Singer, is behind the lens.
Superman has taken a leave of absence from earth to go investigate what happened to his home planet of Krypton. However, on Earth, society has moved on and accepted a life without their favorite superhero. Lois Lane is now a single mother and Lex Luthor is out of prison, and up to his old tricks.
It is on this premise that Bryan Singer, and his team known for their success with the X-Men movies brings the Man of steel back to the big screen.
Known as a director that tries to bring depth and deeper meaning to his stories Singer succeeds on many levels. The man of steel is no longer one dimensional and you can see, like everyone else he does have problems.
Brandon Routh quickly and superbly steps into the big reds boots. He embodies the new generation's man of steel on some many levels, and by the end of the movie, he has become the Superman you will remember in years to come.
The supporting cast of Superman Returns is amazing. Kevin Spacey gives his all as Lex Luthor, and you can really tell why he is the arch nemesis of Superman. Kate Bosworth as Lois Lane and her fiancé Richard White played by James Mardesn (Cyclops from the X-Men series), performances are top notch and really add depth to the story.
No surprise to this reviewer the special effects are top notch and Superman has never flown better in his life. Bryan Singer and his team spare no expense making the audience believe that these events look almost real and could happen in our world.
Superman Returns pays homage to past films by adding many references to Superman I and II. Singer even went as far as to incorporate never-before-seen dialogue of Marlon Brando from the original Superman back into the film.
When we last saw the man of steel on the big screen the producers wanted more camp than drama and substance. Singer brings Superman back to his roots and creates a Superman that is more reality based that relies on mystery/suspense more than just action off the cuff remarks.
The movie succeeds on numerous levels and is a great way to reintroduce a franchise and character that has become a symbol for our society in a time when we need heroes again.
The audience will truly believe once again that "a man can fly"!
About Nathan M Rose
comments powered by

Disqus