Miracle at St. Anna (2008)
Synopsis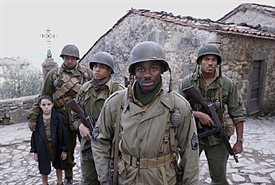 The story of four black American soldiers who are members of the US Army as part of the all-black 92nd "Buffalo Soldier" Division stationed in Tuscany, Italy during World War II. They experience the tragedy and triumph of the war as they find themselves trapped behind enemy lines and separated from their unit after one of them risks his life to save an Italian boy.
Purchase your copy of Miracle at St. Anna today at
Download Miracle at St. Anna from iTunes.
Miracle at St. Anna images are © Touchstone Pictures. All Rights Reserved.
Miracle at St. Anna DVD Review
From Touchstone Pictures, comes the powerful and uplifting World War II epic, Miracle at St. Anna. The film is based on the true story of four African American soldiers stationed in Italy during World War II. Separated from their unit and trapped behind Nazi lines, ranking officer, Aubrey Stamps (Derek Luke), hot-headed Bishop Cummings (Michael Ealy), radioman Hector Negron (Laz Alonso), and gentle giant Sam Train (Omar Benson Miller) survive a shocking massacre and rescuing a young Italian boy in the process. The five make their way to the nearest village, where they join forces with the local opposition, while risking their lives and gathering intelligence for a nation that considers them second-class citizens.

The opening scenes which take place in New York in 1983, lay out a murder mystery to be unraveled in the wartime flashbacks that make up most of the movie. One day at the post office, Hector Negron shoots down a customer who has come to buy a stamp, and he is eager to discover why a scoop-hungry young reporter finds a broken piece of statue among Negron's belongings. This later becomes part of the mystery in this movie.

The film goes on to tell the story of the fates of a band of Italian partisans and a group of soldiers from the Army's all-black 92nd Division in a Tuscan hill town in 1944. The American soldiers who have slipped through the German lines, are with respect to temperament and background, at least as various as the melting-pot dogface units of the old infantry flicks. In addition to Negron, who is Puerto Rican and Roman Catholic, there is Sam Train, a big, gentle, superstitious Southerner. His friendship with an Italian boy named Angelo is one of the film's more improbable elements and also its more memorable moments.

The significant conflict within the American squad occurs between Sgt. Aubrey Stamps and Sgt. Bishop Cummings, whose gold tooth and rough talk mark him as antagonizer for Stamps's stiff-backed righteousness.

The DVD does not contain any significant special features (it appears that they left them for the Blu-ray). However, this is definitely a great movie to add to anyone's must-have DVD collection and a great epic war conflict with great screenplay and special effects in war.
-- Brian Ramsey
For more reviews please visit our film/television review section.
Miracle at St. Anna images © Touchstone Pictures. All Rights Reserved.