Star Wars: Episode I - The Phantom Menance (1999)
| | |
| --- | --- |
| Director: | |
| Writers: | George Lucas |
| Cast: | |
| Released: | Wednesday, May 19, 1999 |
| Length: | 133 minutes |
| Studio: | 20th Century Fox |
| Genre: | Sci-Fi/Fantasy, Action/Adventure |
| Rating: | Some material may not be suitable for children. |
Synopsis
When the evil Trade Federation plots to take over the peaceful planet of Naboo, Jedi warrior Qui-Gon Jinn and his apprentice Obi-Wan Kenobi embark on an amazing adventure to save the planet. With them on their journey is the young queen Amidala, Gungan outcast JarJar Binks, and the powerful Captain Panaka, who will all travel to the faraway planets of Tatooine and Coruscant in a futile attempt to save their world from Darth Sidious, leader of the Trade Federation, and Darth Maul, the strongest Dark Lord of the Sith to ever wield a lightsaber.
Purchase your copy of Star Wars: Episode I - The Phantom Menance today at
Download Star Wars: Episode I - The Phantom Menance from iTunes.
Comments

Courtesy of
Movie Hype App
nrose101
Rematching all six. For some reason this one moe than 2
4/22/2015 11:00 PM EDT
jakovcbg
i wached this 57 timed and i am watching it right now
1/20/2015 1:00 PM EDT
Star Wars: Episode I - The Phantom Menance images are © 20th Century Fox. All Rights Reserved.
Vanity Fair Teases with New Star Wars Info
5/4/2015 10:42 AM EDT
Vanity Fair revealed their new cover last night, featuring Harrison Ford, Chewbacca, and newcomers Daisy Ridley, John Boyega, and BB-8 in the Millennium Falcon, and they have also released some great information regarding the highly anticipated film. The story included a video where we get to see Adam Driver (of Girls fame) as his character Kylo Ren, a villain. We also see a glimpse of Oscar winne...
More>>
Star Wars Saga Available For The First Time on Digital HD April 10
4/7/2015 9:35 AM EDT
BURBANK, Calif. - April 6, 2015 - As anticipation builds for the December release of Star Wars: The Force Awakens, the first new film in the Star Wars Saga in a decade, The Walt Disney Studios, Lucasfilm Ltd., and 20th Century Fox today announced the upcoming release of The Star Wars Digital Movie Collection. For the first time ever, all six epic films in the Saga, from The Phantom Menace...
More>>
Star Wars Episode VIII Release Date Announced
3/12/2015 2:49 PM EDT
Disney and Lucas Films announced today at their annual shareholder's meeting that the upcoming "Star Wars: Episode VIII" film will be released on  May 26, 2017.The companies also announced that a stand alone spin-off film, titled "Rogue One", will begin filming this summer. It is slated for a December 16, 2016 release. "Rogue One" be produced by Kathleen Kennedy, along wi...
More>>
Title Revealed for Star Wars: Episode VII
11/6/2014 12:20 PM EDT
The new title for the upcoming Star Wars film has been announced buy Disney Pictures; it will be Star Wars: The Force Awakens. This will be the seventh film in the franchise and is being directed by JJ Abrams.  To follow Disney Pictures for more updates in Star Wars, head over here. Countdown to...
More>>
Harrison Ford Could Be Off Star Wars Set for 8 Weeks
6/16/2014 2:47 PM EDT
Last week, Harrison Ford sustained an injury on the set up the upcoming "Star Wars Episode VII" film. Now, reports are saying that the injury could hold Ford up for as long as 8 weeks. The injury occurred after the hydraulic door to the Millennium Falcon fell on him, breaking his ankle.  While he will be laid up, the filming will continue, and the release date of December 18, 2015 is expected to b...
More>>
Harrison Ford Injured On Set of New Star Wars Film
6/12/2014 3:03 PM EDT
Reports have come out that Harrison Ford has been injured on the set of the "star Wars" film.According to Disney,  Ford was sent to the hospital after suffereing from a bad ankle injury.  A statement from the company read, ""He was taken to a local hospital and is receiving care".Shooting is expected to continue after Ford gets treated for his inujury. ...
More>>
J.J. Abrams Tweets in response to Millennium Falcon Rumors, Much...
6/4/2014 3:20 PM EDT
With all the speculation surrounding the new Star Wars film, mostly about the Millennium Falcon, director J.J. Abrams took to his Twitter account to respond. Along with the above photo, Abrams said, "I wish people would stop leaking photos from Episode VII. And making ridiculous claims that the Millenium Falcon is in the movie." - JJ (click her...
More>>
Star Wars Episode VII Cast Revealed
4/29/2014 2:00 PM EDT
Finally, the cast of the upcoming "Star Wars: Episode VII" has been announced!Starring in the film will be Oscar Isaac, Adam Driver, John Boyega, Andy Serkis, Domhnall Gleeson, Max von Sydow and Daisy Ridley. They will star alongside returning veterans of the franchise Harrison Ford, Carrie Fisher, Mark Hamill, Anthony Daniels, Peter Mayhew, and Kenny Baker.Aside from those reprising their roles, ...
More>>
Star Wars VII Character Breakdowns Revealed
6/19/2013 4:36 PM EDT
Some casting news coming out of the "Star Wars VII" camp has been reported.  We have some character breakdowns for lead roles available, so read on -   Late-teen female, independent, good sense of humour, fit.   Young twenty-something male, witty and smart, fit but not traditionally good looking.   A late twentys...
More>>
Carrie Fisher to Reprise Princess Leia Role in Upcoming Star War...
3/6/2013 12:36 PM EDT
It has been confirmed that Carrie Fisher will definitely be back in the next Star Wars film. Fisher herself confirmed the news during an interview with Palm Beach Illustrated.  When asked if she could confirm that she would be reprising the role of Princess Leia, she replied, "Yes".  She went on, joking about how she thought Leia would be portrayed. "Elderly. She's in an intergalactic old folks' h...
More>>
Harrison Ford to Return to Star Wars?
2/15/2013 1:17 PM EDT
Some exciting news for Star Wars fan! According to Latino Review, Harrison Ford will be returning to the franchise as Han Solo.  There hasn't been any official statement released yet, but rumor has it that he is definitely locked in for the role.  Ford has said in the past that he wouldn't come back as Solo, but then recently, he said he would.  We look forward to a confirmation soon!...
More>>
Could Yoda Be Getting a Biopic?
2/5/2013 5:07 PM EDT
Disney Pictures is currently working on the  "Star Wars: Episode VII" film, but now they are also in the process of making some spinoffs.Bob Iger confirmed on CNBC that there are some scripts being developed, and that more details will be released when they are ready.  Many are speculating about a possibly standalone film about Yoda.There is no confirmation of  specific characters that will...
More>>
Star Wars: Episode I - The Phantom Menance 3D Theatrical Review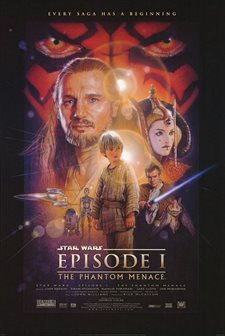 There is nary a person alive today who hasn't heard of Star Wars or seen the influence it has had on culture. So to explain it to you seems unnecessary but for the sake of this article let's do so. Star Wars follows a group of resistance fighters who are trying to topple the regime of an evil emperor, at the same time a young farm boy eager to make his mark in the world discovers he is part of an ancient culture capable of tapping into a mystical energy that exists in the universe.

The original movie aired in the late 70's and spawned two sequels titled The Empire Strikes Back and Return of the Jedi. The movies were a blockbuster success and made George Lucas (its creator) a household name. But many fans, for many years, waited for Mr. Lucas to return to that universe and map out the rise and fall of Anakin Skywalker, who would one day become Darth Vader. Finally near the end of the 90's the wait was over when the first of the prequel trilogy arrived in theaters titled Star Wars: The Phantom Menace. The movie went back a generation to a time when the Republic was still the major political force in the universe and the Jedi were the guardians of peace throughout the galaxy.

The plot went something like this: A Jedi knight and his young pupil become mixed in a political battle over trading rights which is being secretly manipulated by a dark figure. The two Jedi wind up aiding two young children, one who is a poor boy from a backwater planet and another who is the leader of the people whose planet is being laid siege. With me so far? By the end of the film the young boy is recruited into the Jedi as an apprentice, or padawan, and the planet of Naboo is saved however the figure who manipulated this entire situation is never discovered and that lays the seeds for the sequel.

Reaction to this film was mixed and many fans felt it did not do the series justice; this fan was one of those non-supporters. The movie just doesn't work on many levels; there is no clear villain, the over use of CGI in the film disconnects you from the whole experience and the performances are superbly underwhelming. At the risk of sounding like someone refusing to adapt to the "new", the old films were simply better, the characters were more fleshed out, performances were stronger, and the effects in the movie weren't completely reliant on CGI but instead made use of models which gave the effects scenes more substance. Even scenes with alien beings were better because the first film relied on live actors in make-up instead of forcing an actor to play against nothing and add in a CGI character later.

Let's stop here because this could go on for a while, and the point of this article is to discuss the re-re-release of The Phantom Menace in theaters, now in 3D. 3D is a questionable format right now, some films benefit from it because they are engineered that way while others are made worse because 3D is just slapped on afterwards. The Phantom Menace is a good example of the latter; the film was clearly not made with the idea of 3D in mind so many of the scenes where it would be useful or fun wind up being neither.

Suffice it to say, this film just doesn't work on many levels and putting it back in theaters now just seems wholly unnecessary especially considering the reaction to it. But it seems that releasing Star Wars in theaters is all that is left to Lucas at this point. It's not something to feel bad about, he made some great films besides Star Wars; go check out the Indiana Jones series or American Graffiti. Those are some classic films and the impact his effects studio has had on cinema in the 20th century is unparalleled.

So in closing let's not be too upset over Star Wars, no matter how anyone feels about it, its impact on the world is clear and unchangeable. May the Force always be with us.

For more reviews please visit our film/television review section.