Game of Thrones (2011)
| | |
| --- | --- |
| Created By: | |
| Writers: | David Benioff, D. B. Weiss, Bryan Cogman, Jane Espenson, George R. R. Martin |
| Cast: | |
| Air Date: | Sunday, April 17, 2011 |
| Studio: | HBO |
| Genre: | Television |
| Rating: | |
Synopsis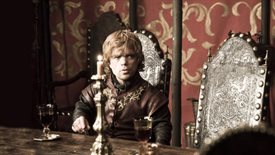 In a land where summers span decades and winters can last a lifetime, trouble is brewing. From the scheming south and the savage eastern lands, to the frozen north and the ancient Wall that protects the realm from the darkness beyond, two powerful families are engaged in a deadly cat-and-mouse game for control of the Seven Kingdoms of Westeros.

As betrayal, lust, intrigue and supernatural forces shake the four corners of the Kingdoms, their bloody struggle for the Iron Throne will have unforeseen and far-reaching consequences.

Based on the bestselling fantasy book series "A Song of Ice and Fire,", by George R.R. Martin, Game of Thrones follows kings and queens, knights and renegades, liars and noblemen as they vie for power. As the series opens, King Robert Baratheon, who is married to Cersei Lannister of the wealthy and corrupt Lannisters, asks Lord Eddard "Ned" Stark to come south and help run his kingdom after the questionable death of his right-hand man. Meanwhile, there is a threat to the throne from the east by the exiled teenage Princess Daenerys and her brother Viserys, whose family ruled the Kingdoms for many years before their bloody ouster. And there are rumors of strange things happening at the edge of the Kingdoms, north of the Wall, where Jon Snow, Ned's bastard son, goes to be part of the brotherhood of the Night's Watch, which is sworn to protect the Kingdoms.
Purchase your copy of Game of Thrones today at
Download Game of Thrones from iTunes.
Comments

Courtesy of
Movie Hype App
graurockgandalf
Das warten hat ein Ende.
2/12/2016 4:27 PM EDT
yeah_iwant
Atrasada como sempre...
6/19/2015 2:37 PM EDT
laixg
Feeling my balls, Your Grace.
5/2/2015 7:53 PM EDT
mobuccellato
Yay!
4/12/2015 9:30 PM EDT
paul
Catch up time
5/24/2014 12:10 PM EDT
nrose101
Done being a taxi for day. Watching before lights out.
4/27/2014 10:36 PM EDT
eric
first timer
3/5/2014 8:56 AM EDT
ironton24tigers
I wanna see this so bad ;)
2/14/2014 9:24 AM EDT
nrose101
After last week not sure i wanna see this one.
6/9/2013 9:04 PM EDT
nrose101
For some reason this series calms me.
6/2/2013 9:49 PM EDT
migue18
Viendo "The Climb" con Adry
5/7/2013 10:18 PM EDT
nrose101
What else is their to do on a Sunday night?
5/5/2013 9:32 PM EDT
abhishikth
Great show ..
4/27/2013 6:17 PM EDT
nrose101
I hope this season gets better.
4/14/2013 9:04 PM EDT
paul
So much TV to catch up on
4/14/2013 1:43 AM EDT
Game of Thrones images are © HBO. All Rights Reserved.
Kit Harington Teases at Game of Thrones Return
9/15/2015 3:11 PM EDT
Kit Harington, who plays Jon Snow in HBO's "Game of Thrones", gave an interview recently, and hinted at the return of his seemingly dead character."The important thing is that I now know exactly how long I am still under contract … Let's just say that 'Game of Thrones' will remain a part of my life for a while, I'll probably be in my thirties when it's over", said Harington.While some may not be s...
More>>
Game of Thrones Renewed for Fourth Season
4/2/2013 2:00 PM EDT
"Game of Thrones", one of HBO's hit series, has been renewed for a fourth season.The fantasy series based on the books by George R.R. Martin premiered its third season this past Sunday to impressive ratings.  the show averaged 4.4 million viewers, 13% more than its second season premier.Martin, who is executive producer on the show,  is expected to make a cameo appearance in the fourth season. ...
More>>
Game of Thrones Season Three Characters Revealed by HBO
1/28/2013 10:54 AM EDT
HBO has released 23 photos from the upcoming third season of their hit series, "Game of Thrones".The still show familiar faces as well as unveiling some new ones, such as Ciaran Hinds as Mance Rayder, Dianna Rigg as Oleanna Tyrell, Thomas Brodie Sangster as Jojen Reed, Ellie Kendrick as Meera Reed, Clive Russell as Brynden 'The Blackfish' Tully, Richard Dormer as Beric Dondarrion, and Paul Kaye as...
More>>
Game of Thrones Season Three Update
6/28/2012 3:16 PM EDT
Next month, HBO will being production on their hit series, "Game of Thrones".  A lot of the same filing locations in Ireland, Iceland and Croatia will be used, but some new places will be seen next season as well.Morocco will be a new location, which is thought to be the stand in location for the cities in Slaver's Bay, a place where Daenerys visit during the season.  Another change that will take...
More>>
Game of Thrones Renewed for Third Season
4/10/2012 1:31 PM EDT
"Game of Thrones", HBO's hit drama, has been renewed for a third season. The news comes as no surprise, given the record setting rating of the season 2 premiere.HBO Programming president Michael Lombardo said,  "Series creators David Benioff and D.B. Weiss raised our expectations for the second season - and then surpassed them".  The premier drew 3.9 million viewers with more than 8.3 million havi...
More>>
Game of Thrones images © HBO. All Rights Reserved.