Bill & Ted's Bogus Journey (1991)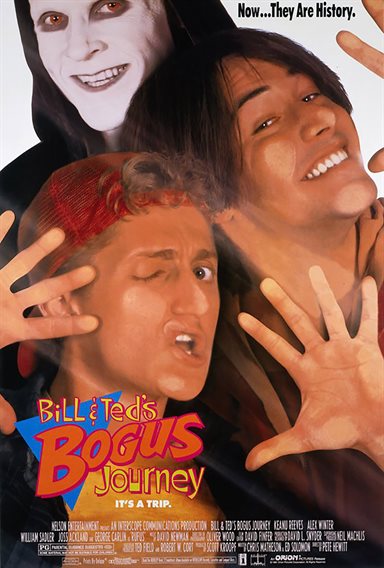 | | |
| --- | --- |
| Director: | |
| Writers: | Christopher Matheson, Ed Solomon |
| Cast: | |
| Released: | Friday, July 19, 1991 |
| Length: | 93 minutes |
| Studio: | Orion Pictures |
| Genre: | Comedy |
| Rating: | Some material may not be suitable for children. |
Synopsis
For many years now, at Bill and Ted University of the future, the people of the world have been excellent to each other. But fed-up with Bill and Ted's peaceful world and even more fed up with heavy metal, Chuck De Nomolos decides to do something about it. De Nomolos creates cyborg versions of Bill and Ted, who travel back to 1990 with orders to kill the human versions of Bill and Ted, win the Battle of the Bands, and pave the way for De Nomolos to take over the future. In 1990, Bill and Ted are sent to hell by the cyborgs. Cyborg Bill and cyborg Ted make time with the real Bill and Ted's girlfriends Joanna and Elizabeth and prepare to take the human Bill and Ted's place in the Battle of the Bands. With the help of their friend Rufus, the human Bill and Ted are forced to find a way out of hell, deal with the Grim Reaper, and talk to God himself, in their mission to get to the Battle of the Bands and stop the two cyborgs.
Purchase your copy of Bill & Ted's Bogus Journey today at
Download Bill & Ted's Bogus Journey from iTunes.
SPONSORED STORIES
Bill & Ted's Bogus Journey images are © Orion Pictures. All Rights Reserved.
Bill & Ted's Reaper, William Sadler, Looking Forward to Face the...
02/19/2018 5:34 PM EDT
Bill & Ted creator and writer Chris Matheson gave an interview recently and discussed where they are at with the third film in the franchise, Bill & Ted Face the Music. It appears that not only are fans excited about this prospect but actors from the franchise are as well.William Sadler, who played the Grim Reaper in Bill & Ted's Bogus Journey, took to Twitter to comment about the interview, sayin...
More>>
Bill & Ted 3 Script Confirmed by Keanu Reeves
10/06/2017 3:03 PM EDT
While attending New York Comic-Con to promote the upcoming film "Replicas", Keanu Reeves confirmed that they are plugging away trying to get the next installment of "Bill & Ted 3" made."It's called Bill & Ted Face the Music. We're just trying to get it made," Reeves said. "Show business is tough. It's a cautionary tale." He also said that the film will feature the duo, who are now older and have f...
More>>
Director Chosen for Bill & Ted 3
08/13/2012 11:18 AM EDT
The next adventure for "Bill & Ted" has snagged a director.  Dean Parisot, who directed "Galaxy Quest", will be taking the helm for the duo's upcoming film.The script has already been written by "Bill & Ted's Excellent Adventure" creators Ed Solomon and Chris Matheson.  The film will follow the present day lives of Ted Theodore Logan and Bill S. Preston, Esq.Keanu Reeves and Alex Winter will, of c...
More>>
Bill & Ted's Third Adventure On Its Way!
03/06/2012 9:49 AM EDT
The third "Bill & Ted" film is getting even closer to becoming a reality.  Both stars of the film, Alex Winter and Keanu Reeves, have confirmed that the script is done.Keanu was quoted as saying, "Yeah, we have a script. We're trying to put it together. It's a good script too." Meanwhile, Alex took to his twitter account to talk about it. " Script done? Check. -We love it? Check. -Green light? Wor...
More>>