Swing Vote (2008)
| | |
| --- | --- |
| Director: | |
| Writers: | Joshua Michael Stern, Jason Richman |
| Cast: | |
| Released: | Friday, August 1, 2008 |
| Length: | 120 minutes |
| Studio: | Touchstone Pictures |
| Genre: | Comedy |
| Rating: | Some material may be inappropriate for children under 13. |
Synopsis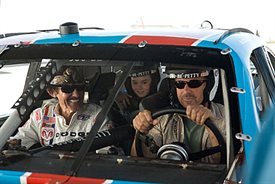 Kevin Costner stars as Bud Johnson, an apathetic, beer slinging, lovable loser, who is coasting through a life that has passed him by, except for the one bright spot in his mundane existence, his precocious, over achieving twelve-year old daughter, Molly. She takes care of them both, until one mischievous moment on Election Day, when she accidentally sets off a chain of events which culminates in the presidential election coming down to one vote, her dads.

Suddenly, Bud Johnson, the nobody, becomes the voice for everybody when the world realizes that his vote will be the one that elects the next president. Politicians invade the small town of Texico, New Mexico and its unwitting inhabitants, waging war for Bud's vote.
Purchase your copy of Swing Vote today at
Download Swing Vote from iTunes.
Swing Vote images are © Touchstone Pictures. All Rights Reserved.
Swing Vote Blu-ray Review
An ordinary Joe accidentally gets the power to choose the next president of the United States in Swing Vote.

Two-time Oscar winner, Kevin Costner, stars as Bud Johnson, a regular guy whose life has just taken an unexpected turn. Costner is aided by an all-star lineup cast, including Dennis Hopper, Kelsey Grammer, Nathan Lane, Stanley Tucci, George Lopez, and the amazing newcomer, Madeline Carroll, as Molly, Johnson's wise-beyond-her years' daughter.
Bud Johnson is content to coast through life in a dead-end job, until his precocious twelve-year old, Molly, sets off a chain of events that results in a presidential election coming down to a single vote: Bud's. Political operatives swarm his tiny hometown in New Mexico in an all-out battle for his ballot and there are no lengths the Republican incumbent, Andrew Boone (Kelsey Grammer) and Democratic candidate, Donald Greenleaf (Dennis Hopper). As the underhanded antics of their campaign managers, played by Stanley Tucci and Nathan Lane, create hilarious consequences, Bud realizes that beyond the implications for the nation, this is his shot at winning his daughter's respect.

When the trailers were shown last summer for this film, it appeared to be just another end of summer movie that would capiliatize on election year. Nothing could be farther from the truth -- the movie is simply amazing -- a true reflection of what American culture has come to be.

Kevin Costner and co-stars all give top-notch performances that really shine through while conveying how most of the American civilization has turned the entire voting process into the laughing stock of the world. It seems like nothing is sacred, anything will be done to win an election or get that final winning vote.

However, the star that shines the most with Swing Vote is newcomer, Madeline Caroll (Bud Johnsons' Daughter). Madeline is simply amazing as Molly and easily upstages the entire cast and gives a performance of a lifetime as the ever-caring Molly Johnson who takes the weight of the entire world on her should.

The picture quality of the Blu-ray is simply amazing with the perfect blend of crisp colors and blacks. The addition of the pristine DTS-HD Lossless Master 5.1 audio rounds out the motion picture to make you feel like you really are experiencing everything Molly and Bud do.

The Swing Vote Blu-ray edition also includes some great extras such as audio commentary from Joshua Michael Stern (writer/director) and Joshua Richman (co-writer). They discuss the cast and crew as well as the policital aspects of the film. Also included is a featurette titled "Inside the Campaign: The Politics of Production", deleted scenes, and surprisingly a music video by Kevin Costner and his band singing "Hey Man, What About You?" (Which personally I could have done without.)

Swing Vote is the perfect film in every way and a great addition to anyone's collection, especially for anyone who just lived through one of the longest election processes in American history.
For more reviews please visit our film/television review section.
Swing Vote images © Touchstone Pictures. All Rights Reserved.