Apr 21, 2009 06:29 PM EST
Warner Bros. Entertainment Announces Completion of Two Key Environmental Projects
It takes creativity and commitment to entertain the world while conserving the Earth's resources, and Warner Bros. Entertainment is continuing its long-standing commitment to environmental stewardship with the completion of two projects on its Burbank lot. The recently constructed Stage 23 is the first "green" sound stage built by a major Hollywood studio and the first built to the U.S. Green Building Council's LEED® (Leadership in Energy and Environmental Design) specifications, and the Studio's solar electrical installation has been expanded to now generate more than 500 kilowatts of energy, making it the largest solar array in the entertainment industry as well as in the City of Burbank. These announcements were made today by Barry Meyer, Chairman & CEO, and Alan Horn, President & COO, Warner Bros.

"'Green' business is good business, and Warner Bros. is committed to advancing sustainable projects wherever we can within our company," said Meyer. "These initiatives are not only good for the environment, but they are beneficial to our bottom line, important for our employees and a very tangible demonstration of the company's desire to help preserve and protect natural resources."

"From the start of our environmental initiatives program some 16 years ago, Warner Bros. has taken a careful look at its businesses to integrate programs and projects where they make the most sense," said Horn. "With a progressive and calculated approach, our goal is to change the Studio's corporate culture so that sustainability will be a key factor in every business decision."

The new 21,600-square-foot Stage 23, which is pending LEED® certification, is the 35th sound stage at Warner Bros.' Burbank facilities and incorporates the traditional needs of film and television production with the latest knowledge of sustainable design and construction practices. Stage 23 incorporates numerous sustainable elements, such as local and environmentally preferred construction materials-including Forest Stewardship Council-certified lumber, which is harvested from responsibly managed forests; recycled steel and metals; non-toxic paint and adhesives; and concrete foundations with 35 percent recycled fly ash. The Stage is surrounded by a perimeter of pervious asphalt, which allows rain water to percolate into the ground instead of running off into the Los Angeles River; contains energy efficient lighting; and incorporates Ice Bear® cooling technology in the stage's tech rooms, using off-peak electricity for daytime cooling. The Stage is also designed to include a 100-kilowatt solar electrical system that will generate clean renewable energy.

Additionally, the 1930s set lighting and grip storage facility that previously stood on the site of the new stage was carefully deconstructed so that 92 percent of its building materials, including more than 25,000 board feet of vintage Douglas fir timbers, were reclaimed for reuse and recycling, diverting 1,890 tons of materials from landfills.

Concurrent to the construction of Stage 23, the Studio also expanded its solar electrical system, which will now generate more than 500 kilowatts of clean energy. Housed on the roof of its Burbank-based Mill Building-which was built in the 1930s and houses various crafts shops-the array is composed of more than 2,700 solar panels and covers nearly two acres of the building's roof. After experiencing success with its original 72-kilowatt solar electrical system, the Studio saw an opportunity to further promote the use of renewable energy by expanding the system. This solar array is both the largest in the entertainment industry and the largest in the City of Burbank.

"Through projects such as Stage 23 and the solar array expansion, we not only improve our environmental performance but provide innovative ways in which we can better service the production community," said Jon Gilbert, President, Warner Bros. Studio Facilities.

"We have only been able to successfully implement these initiatives because of the leadership of our senior management as well as support from our employees and community," said Shelley Billik, Vice President, Environmental Initiatives, Warner Bros. Entertainment. "While we are proud of these accomplishments, we recognize environmental sustainability is a continual process and will be looking to further decrease our environmental footprint."

A leader in environmental stewardship for more than 16 years, Warner Bros. has a five-pronged environmental focus: energy conservation and renewable energy, waste reduction, environmental procurement, green building and environmental education. Highlights include the construction of the entertainment industry's first LEED® CI Silver building; the installation of the industry's first studio-based solar electrical system; the addition of Toyota Prius hybrid vehicles to the company's courier fleet; energy reduction of over nine million kilowatt hours annually; and annual donations of several tons of materials-including computers, office supplies, furniture and construction materials-to hundreds of local schools and non-profit groups through the company's Encore Community Reuse Partnership program. For more details about Warner Bros. Entertainment's environmental initiatives, visit www.wbenvironmental.com.
Source: Warner Bross
comments powered by

Disqus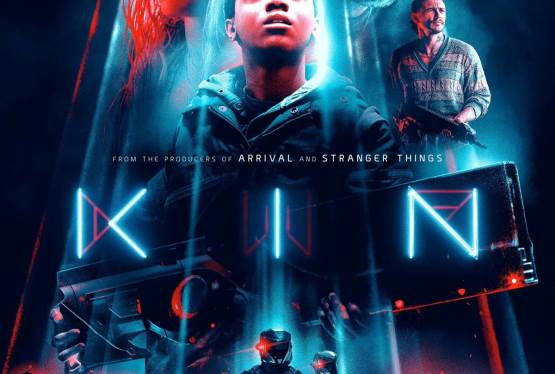 Kin
WAS: $19.99
NOW: $9.99