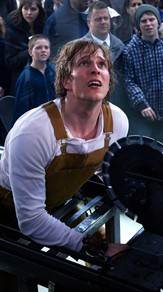 According to USA Today, There will be an announcement made Friday that "Saw 3D" will be the last film of the franchise. The announcement will be made by Lionsgate, producers and star Tobin Bell.

Producer Oren Koules said, "It's time to stop. We have told the story we wanted to tell, and this is going to be a great farewell."

The upcoming film will feature a battle over Jigsaw's legacy and while survivors of Jigsaw gather together seeking group support, they look to self-help guru Bobby Dagen. Dagen winds up showing a different side and brings about a whole new terror.

The film will receive an "R" rating, which, comes a s a shock to producer Mark Burg. "I'm surprised we got it. It's more violent than any of them. But it's in 3-D, it answers all the questions, it comes full circle. We have the goods on this one." The film was edited and submitted six times before they got the "R" rating.

"Saw 3D" is scheduled for release on October 29.