Armageddon Blu-ray Review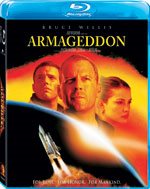 Almost ten years before Michael Bay tried to destroy the world with robots, he tried to do the same with an asteroid. In fact, you could call 1998 "The Year Asteroids Took Over Hollywood" as the summer blockbuster season saw two different asteroid movies. (The other was Deep Impact).
Armageddon is a traditional summer popcorn action adventure flick that focus around the impending impact of an asteroid the size of Texas. Unlike Deep Impact, when the world had years to prepare, this asteroid is only detected after a few small asteroids destroy a space shuttle and hit New York City. The world only has 18 days left. So NASA calls on deep oil drillers to save the planet.
Led by Harry Stamper (played by Bruce Willis), his team (played by Will Patton, Steve Buscemi, Owen Wilson, Michael Clarke Duncan and Ken Campbell) must race against time to save the planet! At the same time, you have a subplot of Harry's daughter (played by Liv Tyler) and her relationship with A.J. Frost (played by Ben Affleck), who Harry had previously fired. While the relationship isn't explored well enough during the film, on a whole it's not bad enough to bring down the rest of the film.
The movie takes it's time to develop the story, and that is something that many films recently seem to avoid doing. So if you are used to the rushed-storyline movie trend, you probably won't like this movie – it is on the long side (150 minutes). It has an excellent score, and the Dolby 5.1 surrounds really shines with this release. The HD viewing of this movie also harkens me back to seeing this movie in the theatres – you can see more detail in most of the shots over the DVD release, and that is one of Blu-Ray's benefits.
The biggest flaw in this release would have to be the lack of special features. The only special features included on the disc is the Aerosmith video of "I don't want to miss a thing" (which is the central theme to this movie), and the two trailers. The trailers are interesting in their own right – you can see how they finished the CGI – in several shots you see the soon-to-be-retired space shuttles launching but in the final cut they are the "new" space shuttles designed for the movie. This lack of special features prevents me from giving the release an "A".
Purchase your copy of Armageddon today at
Download Armageddon from the iTunes Store in Digial HD.