Beetlejuice (20th Anniversary Deluxe Edition) DVD Review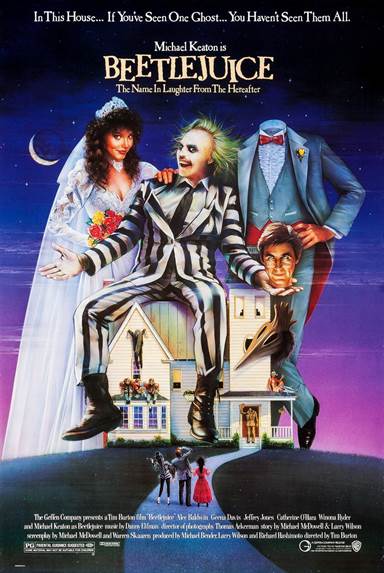 Beetlejuice, Beetlejuice, Beetlejuice! That's right, I said it three times. Now, as I wait for Michael Keaton to appear in my living room, let me do my glowing review of this Tim Burton classic.

While fixing up their New England farmhouse, Adam and Barbara head into town to pick something up at the hardware store, but while crossing over an old covered bridge, their car crashes. After the accident, they return home, only to find out that they are dead.

They go about their "afterlife" until one day, the Deetz's (Catherine O'Hara and Jeffrey Jones) move in with their daughter, Lydia (Winona Ryder). They begin to make all sorts of changes that Adam and Barbara disapprove of. At the point they become fed up, they find a book in their attic specifically for the recently deceased. After following the instructions, they find themselves in a building where they will meet with their guide. She tells them to read the book, and then they will figure out what they need to do to get rid of the Deetz's. In the process, they befriend the goth daughter, Lydia, who is the only one who can see them. When they realize that their scare tactics don't seem to be all that scary, they enlist the help of a bio exorcist, Beetlejuice.

Beetlejuice takes matters into his own hands and goes too far in trying to rid the house of the Deetz's. Adam and Barbara decide that they need to put a stop to Beetlejuice's ways, but struggle to do so. Lydia says that she will marry him if he will stop what he is doing. Adam and Barbara prevail, and manage to banish Beetlejuice.
If you are a Beetlejuice fan like me then the 20th Anniversary DVD is made for you! Not only do you get one of the best transfers yet of this timeless classic, but also three episodes of the classic animated Beetlejuice cartoon from series that ran 1989-1991.

This is arguably Michael Keaton's best performance, and I agree. Bizarre, out there concepts of death and what happens in the afterlife, quirky, odd characters and great performances by all the actors all add up to a great movie!
Purchase your copy of Beetlejuice (20th Anniversary Deluxe Edition) today at
Download Beetlejuice (20th Anniversary Deluxe Edition) from the iTunes Store in Digial HD.