Twilight Theatrical Review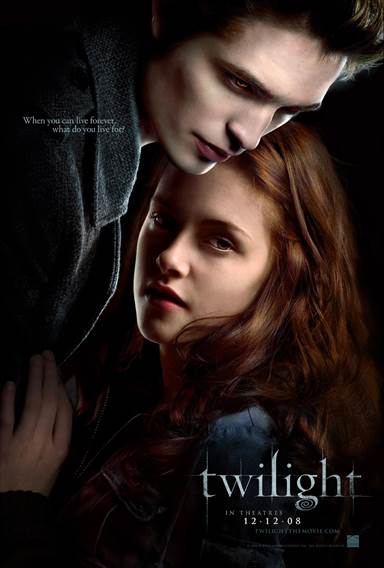 The void left by the postponement of Harry Potter and the Half-Blood Prince allowed for Twilight to move up their release date by two weeks. It was more than just a timing difference or to move away from The Day the Earth Stood Still. Rather, I think it was a symbolic move, to show that Twilight was filling in for the serial movie genre to tell a complete story. That is, without a doubt, the most accurate way to describe this movie. Beyond a teenage love romantic vampire movie, that is.

Twilight is based on the first of Stephanie Meyer's bestselling books about a young girl named Isabella Swan (Kristen Stewart), who goes by Bella, or Bells to her dad. Her Mom remarried, and her new stepdad has a job that could require frequent moves, so she decides to move in with her Dad. Filmed on location of the actual town mentioned in the book, her Dad is the police chief of a small town, where everyone has known each other for their entire lives. And so she is plopped right down in the middle of the school year as the new girl.

Normally, in these kind of stories, the new girl is the outcast, and doesn't fit in. And while it actually does happen (watch for it, trust me it's there at the beginning ), she actually is immediately befriended by several people in the school. We find out, however, that Bella just seems to want to be alone, and that she is not the outcasts of the school. The outcasts apparently are the Cullen children, and they are introduced during Bella's first lunch at the school. But then she meets Edward Cullen (Robert Pattinson)and is assigned to be his lab partner in Biology class.

It goes on from there, to finding out the Cullen's story, to what they like to do with their free time, and the other usual spring high school activity (prom). The movie from there is about Edward and Bella. Mainly a romantic story, this movie also begins to look at the lives of vampires that walk among the humans. We'll see that they are not destroyed by sunlight, but rather they don't show themselves because of a special feature of their skin. We'll also see that not all vampires are evil.

Even though I knew the story beforehand, I thought that this was a very well done movie, with an excellent soundtrack, especially the scene where we learn what these vampires do in a thunderstorm (although there was one scene where I thought the music was just wrong and mistimed). Well-paced, with extremely excellent casting, this movie will keep your attention. Special effects are kept at a minimum, along with most of the gore occurring off-camera or in the shadows.

The movie, and the four books together, is Bella's story, much like the Harry Potter books, or Elizabeth Swann's story in the three Pirates of the Caribbean movies. So partially you have to think about the story as a whole, rather than by itself. There are hints to the next movie, such as Sam Uley's one-line introduction. Or more details about Jacob Black (Taylor Lautner). But you don't have to know the whole story to enjoy this one. It stands very well by itself.

If you've read the books, go see this movie. If you are looking for a romantic movie, go see this movie. If you're looking for Saw VI: Reign of the Vampires, you'll be disappointed. It isn't a horror movie. It's more like a romantic pseudo-thriller.
Purchase your copy of Twilight today at
Download Twilight from the iTunes Store in Digial HD.
Read More Reviews For Twilight
About Roger Longenbach
comments powered by

Disqus