Pirates of The Caribbean: Dead Man's Chest Theatrical Review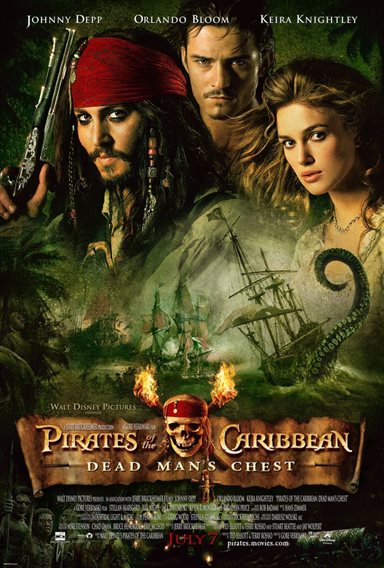 Argggghhh! Summer brings many things. Cook outs, bugs, lemonade stands, and Baseball games. But I could get used to seeing Jack Sparrow and his comrades invade every summer. Pirates of the Caribbean : Dead Man's Chest is the one summer movie I could not wait for. Did it shiver my timbers or did it sink to Davy Jones' locker? You shall see landlubbers!
Pirates is a tale of two movies. The one you saw a couple of years ago, and the one you see now. Comparing is fun but not usually fair. Comparing the 2 movies will only make you nit pick. You know what to expect from this series. Entertainment. Nothing more, nothing less. You know what the one thing I said when I saw the first movie? " It is great to have a fun movie to go see this summer" Just fun. Pirates was fun, and so was this one. Don't look deep, please don't. Not many movies I review are like this. One person leaving the theatre said " It was not as good as the first." Personally it was as good in the fun department. It just did not have as simple and as straightforward a story. See, sounds like I am nitpicking! I review movies so I guess I can nitpick a little.
The movie starts off with a nice surprise. The new Disney logo is absolutely gorgeous and will give you a great smile and some goosebumps first time you see it! Now the story begins almost where we left off. I will not give many details since this is an early review and all. The story is ok. I was not impressed how it took about half the movie to get rolling. Seems like they had to really fly through key scenes just to get to sections of the movie that mattered. (Although the movie was well over 2 hours long so I guess in retrospect they did not move that fast! LOL ) Like I said the first half of the movie seemed like filler to me, until the chest got brought into play. Then Pirates takes off!
Action scenes were great, and at the same time hilarious. That jungle tribe was a tad out there but again remember it is all entertainment. Any scene with Jack Sparrow was something to watch. Half the time I did not know what he was trying to do. He seemed lost a lot, and not in a good way. And even my wife pointed out he was a lot more cowardly and devious in this film than the last. Well at least through most of the film. Remember what I said, don't look deep. Stay the course and you will be entertained. A tad scarier than the first one with Davy Jones and his friends giving small kids nightmares! And even a few legitimate surprises thrown in for good measure. Special effects were fantastic and sometimes even dizzying! I know a couple times I even had to refocus on the screen to keep up with the action.
So I know I did not tell a lot about the story ( I want you to go see it ! ) but I will say this. This second part of the trilogy did a great job in setting up the 3rd movie. It was fun, and I did enjoy myself. I will see it again, with popcorn, and soda, and the whole feeling of a summer movie around me. That is what this movie does well. It gives you a reason to have fun again at the movies. I saw many people dressed up as pirates, lots of clapping ( especially right at the end of the movie! ), and lots of smiles on the way out. This movie is perfect for the summer. It is summer if you ask me. Fun, carefree, and not too serious. Anyone who picks this apart is not seeing it for what it is. A fun re-introduction to our pirate friends.
Oh and stick through the credits for an answer about something you might be wondering half way through the movie! LOL

-- Carl Nordstrom

Purchase your copy of Pirates of The Caribbean: Dead Man's Chest today at
Download Pirates of The Caribbean: Dead Man's Chest from the iTunes Store in Digial HD.
comments powered by

Disqus
Today's iTunes Digital HD Deals