The Divergent Series: Ascendant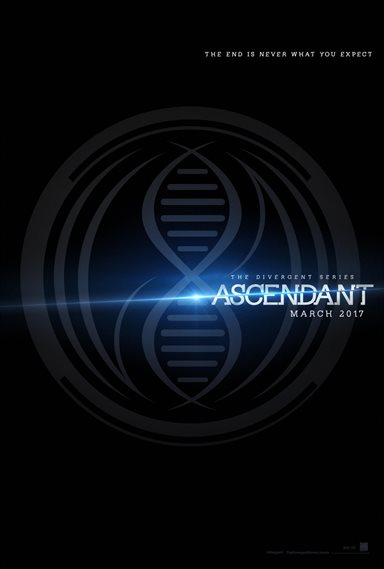 | | |
| --- | --- |
| Director: | |
| Cast: | |
| Released: | Coming Soon |
| Studio: | Summit Entertainment |
| Genre: | Sci-Fi/Fantasy |
| Rating: | This Film Is Not Yet Rated |
Synopsis
Beatrice Prior and Tobias Eaton venture into the world outside of the fence and are taken into protective custody by a mysterious agency known as the Bureau of Genetic Welfare.
The Divergent Series: Ascendant images are © Summit Entertainment. All Rights Reserved.


Shailene Woodley Not Returning to Divergent Franchise
02/10/2017 11:40 AM EST
Lionsgate had announced last summer that due to the disappointing box office earnings of Allegiant, the third part of the Divergent series, that they would be taking to television to finish out their franchise with their fourth film, Ascendant. The TV film would also possibly lead to a television spin-off series.Not surprisingly, this left many involved with the project with a bad taste in their m...
More>>
Miles Teller Talks Divergent: Ascendant
08/05/2016 2:01 PM EST
Miles Teller recently spoke about the franchise Divergent, and the surprise of the latest installment "Ascendant", being aired as a TV movie."It caught us all by surprise", said the actor, who portrays Peter, though seemed uncertain of his return in the franchise finale. "At this point, it's a different set of circumstances. We'll see. I honestly haven't talked to anybody."Originally, the film was...
More>>
Shailene Woodley Discusses Possibility of Divergent TV Film
07/21/2016 5:18 PM EST
Today, Shailene Woodley addressed the news about Lionsgate's The Divergent Series: Ascendant possibly being released as a TV movie instead of having a theatrical release.  The news came after he last film of the series, Allegiant, only made about $66 million domestically.Woodley said, "Honestly, I was on a plane when all that happened and I landed, and I'm like 'Whoa, what's going on?!'".  She wen...
More>>
SPONSORED STORIES
Comments

Courtesy of
Movie Hype App
mal1ks
There's not even a book for this but I'm still hyped
07/07/2017 7:18 PM EST
sabi_18
OMG I wish it was 2017 already.
11/16/2016 10:14 PM EST
coreyanthony26
Some More Deg I Only Thought there Was Only 3 but More ok I Will Keep Going has long has it takes
03/10/2016 8:33 PM EST
shansel
I can't wait for more Shailene Woodley and Theo James!!!!! Cant't wait
02/13/2016 3:09 PM EST
laurenlee
Ahhhhh, I can't wait 3 yrs!!!
05/10/2014 11:42 PM EST