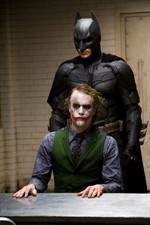 "The Dark Knight" has broken another record on Tuesday. The film has become the fastest ever to reach the $200 million mark. It has broken the previous record, held by Pirates of the Caribbean: Dead Man's Chest, Spider-Man 2 and Star Wars Episode III: Revenge of the Sith. Those films took eight days to reach the mark, while "The Dark Knight" took only five.

Domestic earnings reached $203.8 million and international earnings are at $41.3 million. That number will begin to climb as the film opens in more and more countries.

The following are all of the records broken by "The Dark Knight":

Widest release (4,366 theaters), biggest midnight opening ($18.5M), biggest opening weekend ($158.4M), biggest July opener ($158.4M), biggest PG-13 rated opening ($158.4M), biggest single day ($67.2M), biggest opening day ($67.2M), biggest Friday ($67.2M), biggest Sunday ($43.6M), biggest IMAX opening ($6.3M) and fastest to $200M in five days ($203.8M).

See the #1 box office movie. Dark Knight tickets on sale now!