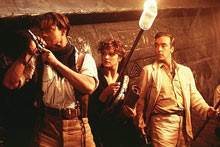 Brendan Fraser will reprise the role of Rick O'Connell from the popular "The Mummy" franchise. Details are scarce but the role will re-imagine the character in a "new setting" rumored to be away from the desert and the mummies curse.

Joe Johnston is signed to direct the film which is expected to start filming in 2007. Stephen Sommers direct "The Mummy" (1999) and "The Mummy Returns" 2001 - both box office hits.

Bringing the character to a new adventure likens him more to Indiana Jones who in each film has pursued different treasures. A Fourth Indiana Jones film has been in talks for sometime with a rumored 2008 release.