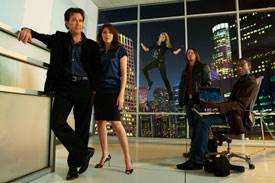 After being on hiatus for only a few months Leverage returns to TNT this Wednesday with season two.
LEVERAGE comes from blockbuster film producer Dean Devlin (
Independence Day
) and writer/producer John Rogers (
Transformers, Blue Beetle
) and Chris Downey. It is a fun, fast-paced caper drama series.
In the series, a renegade team of modern-day Robin Hoods operates outside the law to take revenge against those who use power and wealth to victimize others. Separately, they're criminals with reputations for working alone. Together, they're the perfect team to turn the tables on the corrupt and level the playing field for the little guy.
Starring: Timothy Hutton as Nate Ford (mastermind), Gina Bellman as Sophie Devereaux (grifter), Christian Kane as Eliot Spencer (muscles), Beth Riesgraf as Parker (thief), Aldis Hodge as Alec Hardison (hacker)
Also, be sure to check out the all new Art of the Con at
LeverageHQ.com
.