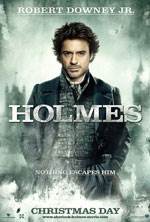 Risky Business Blog has announced that there is already a sequel in the works for the upcoming "Sherlock Holmes" film. Due out in December, the film will be starring Robert Downey Jr. as Sherlock Holmes, Jude Law as Watson and Rachel McAdams as Irene Adler.
The film is directed by Guy Ritchie and is said to be a more "amped up" and action packed version of the classic Sir Arthur Conan Doyle novels.
Rumors are floating around, stating that Brad Pitt will make an appearance in the sequel as Holmes' nemesis Moriarty, but there is no official word on that news. All the lead characters from the first film are expected to make a return in the sequel, and Ritchie is expected to direct it.
The screenplay for the original was written by Michael Robert Johnson, Anthony Peckham, Wigram and Simon Kinberg.
"
Sherlock Holmes
" is scheduled to be released in theaters December 25, 2009.