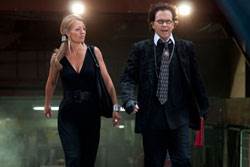 This January, your favorite band of "do-gooder" grifters are back as TNT continues Season Two of its critically acclaimed television series, Leverage.
By the end of summer 2009, the Leverage team had scammed a hedge-fund manager who happened to be in the custody of U.S. Marshals; used Eliot's martial arts skills to corner a corrupt fight promoter; and took over a private school to recover millions of dollars lost in a Ponzi scheme. They also went head-to-head with an almost identical team of grifters to recover a painting that had been stolen by Nazis during World War II.
But for Sophie, something just wasn't feeling right. Her conflicted relationship with Nate left her questioning if she wanted to continue working with the team. She decided to take some much-needed time away, but not before she arranged for a friend and fellow grifter, Tara Cole (Ryan), to fill in for her. Tara immediately proved her worth by not only helping the team save a client's estate from a corrupt lawyer but also fooling everyone into thinking she was the client's attorney.
To kick things off the gang helps a woman caught up with the Chinese Triad in The Runway Job. While this episode is a great way to reintroduce the character to the audience it is more of a throwaway episode than anything else. However, it does help to integrate the new team member, Tara Cole, more into the cast.
The second episode of the year is entitled, The Bottle Job. really gets things going as Nate Ford and the gang try to help out an old friend's daughter from a gang of Irish loan sharks.
As with season one and the beginning of season two, the cast is top-notch with Timothy Hutton leading the charge. But they are almost upstaged by the rest of the amazing cast, including Christian Kane (Angel), Aldis Hodge, and the amazing Beth Riesgraf. The inclusion of Jeri Ryan is a great addition to the cast; however, the lessening of Gina Bellman's role, because she took time off for her pregnancy really, does hurt the show.

Leverage continues to be a great addition to TNT's already great lineup of shows, and 2011 appears to be a great year for Nathan Ford and the gang.

Leverage returns to primetime with new episodes Wednesday, Jan. 13, at 10 p.m. (ET/PT).