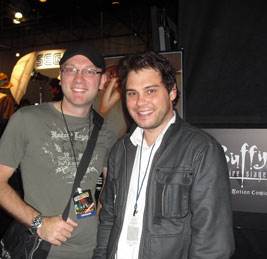 During this year's 2010 New York Comic Con the FlickDirect staff had a chance to talk to Jef Shuter, The Director of The Buffy The Vampire Motion Comics, and see what has changed since July's San Diego Comic Con.

FLICKDIRECT: Why do a motion comic?

JEFF SHUTTER: We wanted to expand the reach of comic to a new audience at the same time keeping it very personal for new and old fans. Basically try to remix it for a new venue.

FLICKDIRECT: Did you try to keep it close to the original?

JEFF SHUTTER: We tried to create a sort of middle ground for new readers so that it wasn't something completely new or different for them but without giving ourselves any limitations.

FLICKDIRECT: Is the hope to get only new fans or convert current ones or both?

JEFF SHUTTER: We would love to be able to get new as well as old fans. What we're really trying to do is create a bigger universe for fans to come and play in. In the end though we want everyone to feel they have a common interest when it comes to Buffy whether they are reading the motion comic or the original.

FLICKDIRECT: How involved was Joss Whedon in the process?

JEFF SHUTTER: He was involved to the extent that we had his full support. He let us take the reins all the way but also wanted us to have with it.

FLICKDIRECT: Given the hesitancy among most comic fans to accept reading comics online do you feel this will catch on?

JEFF SHUTTER: As I said, our goal is definitely to get new fans as well as bring in old ones. I can understand how it would be tough for old fans but all we are really trying to do is create more accessibility for people who aren't comic shop regulars.

FLICKDIRECT: At the moment the motion comic is only available in the U.S & Canada, is there a reason why you decided to only start with those two markets and not release larger?

JEFF SHUTTER: Well that is more Fox Entertainment's decision than ours. Obviously they have always been supportive of Joss and Buffy and we certainly felt their support when we began on the motion comic. So I think that is more of a business decision than anything else, but certainly not any indication of a lack of support.

FLICKDIRECT: When you began casting for the voice actors did you want to get well known actors to lend their voices or were you looking to stick with unknown people?

JEFF SHUTTER: There was certainly a level of experimenting when it came to cast people; it was a matter of resources, finding the right people who can their own unique voice to the characters. I think we succeeded really well in that area. We had some great and talented people working with us.

FLICKDIRECT: Should we expect more Buffy motion comics?

JEFF SHUTTER: I hope so, it's really the fans choice; how they respond to it. I was a fan of the TV show when it was on so this is certainly a passion for me. With anything creative you want to put your own unique voice on it so that it's not just a rehash of what's already been done. Hopefully fans will see that and want to see more of these motion comics in the future.