Dec 02, 2010 11:03 PM EST
Disney's Walt and El Groupo Director, Ted Thomas, Sits Down With FlickDirect
A few week's ago FlickDirect's Marco Chacon was able to sit down with Director Ted Thomas to discuss the upcoming Disney DVD -- Disney's Walt & El Grupo.

Ted Thomas: Hello, how are you?

FlickDirect: Good! I watched the DVD, and I would like to understand your thinking on Walt & El Grupo. What do you think the "key story" of this film is, and who do you think the target audience is for it?

Ted Thomas: Sounds like it didn't hit you.

FlickDirect: I found it very interesting. I was really interested in the whole idea of a propaganda war against the Nazis. I would like to have head more about that - about the politics and the effects or results of the trip. Now that I have seen Walt & El Grupo, I find myself wanting to research it!

Ted Thomas: Oh? Well, good! If you want to go and research it, then I think I have done a good job. The film asks more questions than it answers. It is a film about how artists engage the world and how they make art. It is also a biography of Walt Disney. It is set against the backdrop of world history.

My goal in making the picture was to take the audience on the same kind of trip of discovery as the group went on. I chose to focus on the art over the geo-politics because I feel that on the rare occasion where the story has been told it has always been told from the vantage of the politics. This is a unique perspective from the artists - how they see the world and reflect on the world.

I think the politics will come through no matter what; it is an elephant in the room. You can't get away from it, even if you soft-focus it. The story focuses on the artists and their legacy.

FlickDirect: I think Disney and his whole legacy is one of the most uniquely American and uniquely optimistic world views out there.

Ted Thomas: I chose to portray that on the screen without commenting on it. I know that frustrates some people because some people want that more explicitly. Instead, I wanted to put it out there - more like the real world - as you are taking a trip, and it is all passing outside the window. You can form your own opinion on it.

FlickDirect: I understand you physically retraced all the steps that the group took. During that trip, is there anything that was really remarkable that happened during YOUR journey? Something that didn't make it into the movie?

Ted Thomas: The one that had the biggest impact was getting permission to go inside the ruins of the Eurka Casino. Now, we saw it from the outside on our research trip. It is a dilapidated building with water-stains on it and crumbling plaster and such. All I could think of was the stories about what a glittering jewel box it was inside. So we asked, "Can we see it?", and the answer was "No." So we asked again, "Can we see it?", and the answer was "No."

It was one of those things - if you can come up with enough ways to ask "please" sometimes the door will open. Being in there had a profound emotional impact because all you could feel was what a terrific place it must have been. You would overlay the emotional history of the artists who had performed there and the famous people who had sat in the audience. It is just a shell of a building today with just a hole where the stage was. That became a sort of emotional anchor for me and the film. The year was such a turning point, and there was a feeling of loss. After 1941, Disney would never be the same, America would never be the same, and on and on.

I could think of no more powerful cinematic vision to capture that then the casino.

FlickDirect: You were also literally walking in your father's footsteps, were you not?

Ted Thomas: Yes. That got to me several times also.

FlickDirect: People say the world has shrunk today - back then you couldn't just get on a plane. Did you find it exotic today? Did you find it more mechanical today or did you get a sense of the exoticness that the group felt. Do you think modern life has degraded that somewhat?

Ted Thomas: I had the good fortune of being an exchange student to Brazil when I was in high school so being in Latin America wasn't - I had been to Brazil. It wasn't totally new to me. Also, my family had hosted an exchange student from Argentina. I had some familiarity with those countries, so it wasn't completely new to me.

Seeing it through the eyes of people who took the trip 60 years before did make it new though. You would ask what would they have seen…thought…done? In many cases in the movie, we know because we have the artwork and sketches they did. That became material that had to be in the film.

Traveling there today I was reminded how the cultures were differentiated. Today we sort of mash that together.

FlickDirect: It wasn't always clear to me who was reading the letters. Were there any survivors?

Ted Thomas: In every instance it was descendant. The only surviving wife was Harriet Wolcox who was 101 years old. In Latin America, we met one of the artists - the theatrical version got taken down - one of the things that got left out was more back-story on Guierro the cartoonist in Buenos Aires. We talked about having fascists and Nazis, but "We didn't fight about". He was 19 years old and went to the bar-b-que. He was an exception. We also interviewed a 94-year old gentleman, but he wasn't in the movie.

FlickDirect: I did have a bit of a hard time keeping some of that straight.

Ted Thomas:Yeah, for those who have watched it a second time, I think you get more out of it at a second viewing. One of the things about it is that unless you are tri-lingual (Portuguese, Spanish, and English), there is an awful lot of reading.

FlickDirect: That would come with the territory.

Ted Thomas:This has played really, really well with Spanish speaking audiences.

FlickDirect: I could see that.

Ted Thomas:The Disney movies were made to be trans-cultural. I didn't set out to do that with Walt & El Grupo, but that is what we did.

FlickDirect: That is a fitting tribute to the work they did.

Ted Thomas: I hope so. I think their trip was a good thing, and the world was left a better place because of it. If the same could be said for our work, I would be very, very honored?

FlickDirect: Great-a few final questions. What did you make of the "Walt Disney was frozen" stuff people told you. I have heard it as a joke, but I didn't realize people really believed it!

Ted Thomas: It is a big world. There are two other urban myths in Argentina. One is that Disney got the idea for Disney Land from a little park outside Buenos Aires. The other is that he got the idea for Bambi from staying in a cabin. There is a little plaque on the wall that even talks about it. Trust me: Disney was never there!

FlickDirect: Ha! The other thing I wanted to leave you with was some commentary. We are seeing other regions of the world today where there is Anti-American sentiment. While watching the movie, I wondered if today's Disney would be capable of doing some kind of outreach considering that had been done, and it worked. Could we still do this?

Ted Thomas: You know other audiences have asked that. They ask, "Why aren't we doing more of this today?" I think we could be - the world is smaller in terms of communication today. There is nothing wrong with sending our best, brightest, and most entertaining. I think only good could come of it.

FlickDirect: Thank you! It has been great.

comments powered by

Disqus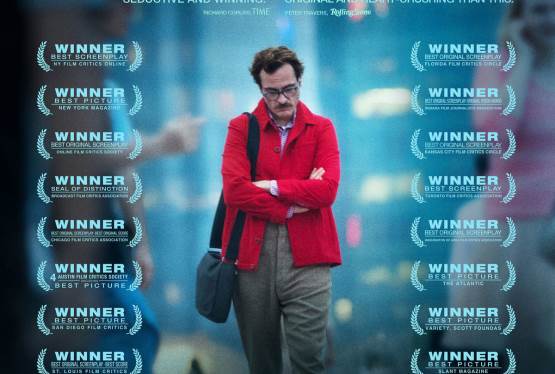 Her
WAS: $14.99
NOW: $12.99