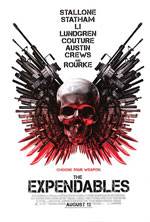 Bruce Willis recently spoke with Access Hollywood and disclosed that the filming or the "Expendables" sequel is set to start this year year.

"Apparently it's going to happen this year… As far as I know, barring any unforeseen circumstances, but yeah, I would love to be a part of it".

Willis played a villain who simply went by the name "Mr. Church" in the film, and is said to be continuing that role in the new film.

There is also some news saying that Jean Claude Van Damme will also be appearing in the sequel. He declined starring in the original film, and is said to be o.k. with being involved in the sequel under one condition - "JC seems to be leaning towards appearing in the sequel, as far as I know...If Steven Seagal is not in the sequel. From what I've heard it, [Steven] Seagal won't be, not because of Sly, but because of producer Avi Lerner, who had a few bad experiences with Steven", said filmmaker Sheldon Lettich.