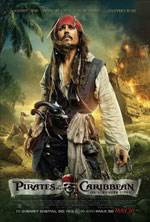 Starting today, Pirates of the Caribbean fans can watch an exciting 5-minute clip from the Pirates of the Caribbean: On Stranger Tides film exclusively on Disney.com. After watching Jack Sparrow narrowly escape the grasps of the king's Royal Guard yet again, guests can access a swashbuckling deal of $5 off the 5-Disc Combo Pack from Disney Movie Rewards. Both the exclusive clip and deal will be available until Oct. 23 on Disney.com. For more exclusive Pirates fun, visit Disney.com/Pirates.

Pirates of the Caribbean: On Stranger Tides is now available for purchase in stunning high definition Blu-ray™, eye popping Blu-ray 3D™ (a first for the legendary franchise) and Movie Download.

The Limited Edition 5-Disc Combo Pack (1-Disc Blu-ray 3D + 2-Disc Blu-ray + 1-Disc DVD + 1-Disc Digital Copy) is available at retail for the suggested price of $49.99 U.S./ $56.99 Canada and includes hours of bonus materials offering fans a deeper dive inside Pirates of the Caribbean: On Stranger Tides including immersive Disney Second Screen technology, exclusive behind-the-scenes experiences, Fountain of Youth mythology, an extensive look at mermaids, bloopers, deleted and extended scenes, and much more.

Film Synopsis:
From Disney and producer Jerry Bruckheimer comes all the fun, epic adventure and humor that ignited the original. Johnny Depp returns as Captain Jack Sparrow in Pirates Of The Caribbean: On Stranger Tides. A tale of truth, betrayal, youth, demise - and mermaids! When Jack crosses paths with a woman from his past (Penélope Cruz), he's not sure if it's love or if she's a ruthless con artist using him to find the fabled Fountain of Youth. Forced aboard the ship of the most feared pirate ever, Jack doesn't know who to fear more -Blackbeard (Ian McShane) or the woman from his past. Directed by Rob Marshall, it's filled with eye-popping battle scenes, mystery and all-out wit.