Oct 18, 2011 04:25 PM EST
Another Hangover II Lawsuit Filed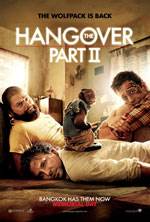 "Hangover II" never seems to get out of the news. While that may sound good on some level, the reason for being in the news isn't. The film has attracted yet another lawsuit.

After being involved in a lawsuit over the Mike Tyson tattoo that was copied for the film, now Warner Bros. is facing a suit from screenwriter Michael Alan Rubin. He is suing for copyright infringement, defamation, fraud, and other charges.

According to Rubin's suit, the film "is copied from the treatment … and also from the real life incident of the Plaintiff, because the protagonist in Hangover-2 travels from the United States to an Asian country to marry his Asian girlfriend." Rubin, who was married to a Japanese woman, says that he wrote a screenplay titled "Mickey and Kirin", which was inspired by the ultimate demise of his marriage while on his honeymoon in 2008.

Rubin feels his ex-wife handed the story over to filmmakers.