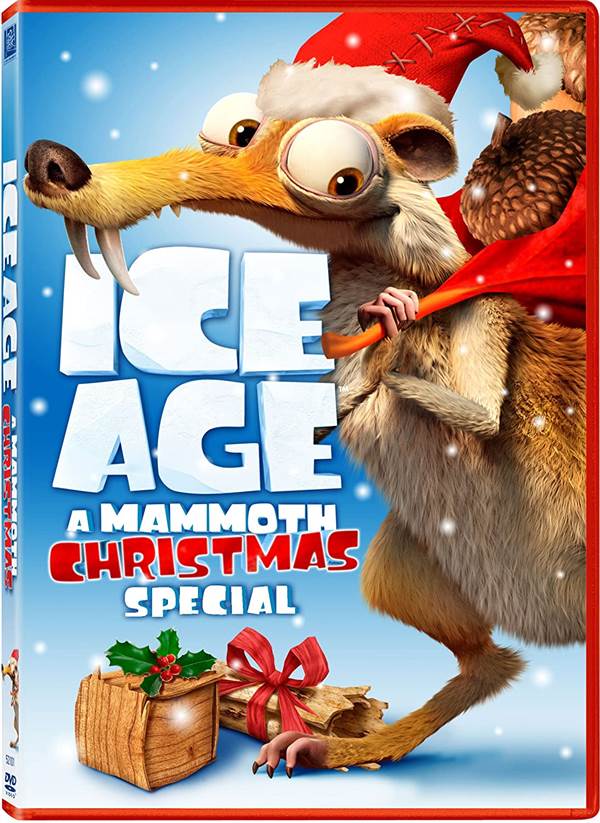 As the holidays approach we can expect the usual stream of Christmas specials with the general message of peace on Earth and goodwill towards man. Along with all of the classics we grew up with come new ones, incorporating characters that have more recently entered our lives and hearts. The Ice Age series is one of the newest to jump on the holiday bandwagon.

With eight months to go before Sid, Manny, Diego, Scrat, and crew return to theaters in Ice Age: Continental Drift, the gang staked out a half-hour of Thanksgiving night primetime air on Fox with this program, which raced to DVD and is now presented here for review.
The Ice Age movies are set in prehistoric times, somewhere between 10,000 and three million years ago. And yet, the gang celebrates Christmas much as we know it, despite predating the holiday's namesake by at least several thousand years. Why? Probably for the same reason that there are references to Miami and barf bags here. The Ice Age series is not one for historical accuracy: the ice is melting in the second movie and then there are dinosaurs underneath in the third. Obviously, these aren't documentaries of a distant world, but computer-animated comedies set back then and built on parallels to modern times.

In A Mammoth Christmas Special, Woolly mammoth Manny (voiced, as always, by Ray Romano), his mate Ellie (Queen Latifah), and their daughter Peaches (Ciara Bravo) are excited to celebrate Christmas. Manny proudly displays the treasured Christmas rock of his youth, which, as forecast, clumsy sloth Sid (John Leguizamo) manages to destroy while he's trying to introduce a new tradition of decorating a Christmas tree.

Manny says that the accident will earn Sid a place on Santa Claus' Naughty List, something Manny invents on the fly to teach a lesson.
Peaches, troubled by her father's private dismissal of Santa Claus as fiction, and Sid, on edge at the prospect of being passed over by Santa, set out to find the North Pole and the big guy. They are joined by annoying twin opossums Crash and Eddie (Sean William Scott and Josh Peck), who are pretty sure they too might be on Santa's Naughty List. The group runs into boastful independent reindeer Prancer, a colorful "Santourage" of guard Mini-Sloths, and a dangerous whiteout.

Meanwhile, Manny, Ellie, and cynical saber-toothed tiger Diego (Denis Leary) set out to find that party and in the process run into Santa Claus and change Christmas for all time.

It is difficult to say that this holiday special is any better than the movies that preceded it. It unfolds with a series of jokes and gags, none of which carries much weight. The short runtime -- the slow, disproportionate end credits scroll begins 21 minutes in -- ensures the storyline is lean and without any real substance. There are new spins on two Christmas carols and few opportunities to check in with Scrat and his perilous, Nutcracker Suite-backed nut quests. Without strong characters or witty dialogue, it all falls pretty flat. Funny, exciting, suspenseful, poignant: A Mammoth Christmas Special is none of these things that seem to come so easily for Pixar, DreamWorks, and Disney though at least it looks nice.

As DVDs go, this mini-film looks quite good with sharp crisp audio bringing each moment of humor cleanly to your ear. As for special features, first, we get a look at Ice Age: Continental Drift in a clip that plays automatically after the special. Rather than just a teaser or a standard trailer, this is a 2-minute fully-rendered scene. It gives us our first glimpse of Sid's lazy, spiteful Granny (voiced by Wanda Sykes). Technically, it looks and sounds good, but creatively it is not at all promising.

The other item is a 3-minute "Swingin' Jingle Bells" music video which edits together footage from the special with some holiday graphics while a jazzy variation on "Jingle Bells", credited on the case to "the Mini-Sloth Choir", plays. It's the thought that counts.
As Christmas specials go, this isn't one to enter the analogs of history, but that won't matter to fans of the series. It has enough humor and warmth as any children's tale goes and will certainly keep them entertained. So if you're a fan of Ice Age, head out to the store and pick up yourself a copy of A Mammoth Christmas.

Purchase Ice Age: A Mammoth Christmas Special From Amazon.com today.