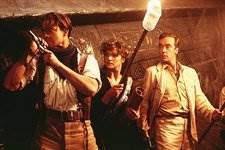 Thirteen years it seems is a long enough wait to reboot a movie these days, according to Universal Pictures any way. That's how long ago Stephen Sommers bought Imhotep back from his then sixty Seven years slumber in the Mummy. A movie that went on to spawn two follow up movies and make household names of the stars, Brendan Fraser and Rachel Weisz although the later did cut and run after the Mummy Returns.

Now it seems Universal have hired Jon Spaihts the co-writer on Prometheus to write a script that will again take us to the sands of Egypt,
"I see it as the sort of opportunity I had with Prometheus: to go back to a franchise's roots in dark, scary source material and simultaneously open it up to an epic scale we haven't seen before," Spaihts tells Variety.

It will be interesting to see how Spaihts decides to tell the tale, a darker more horrific version or the safe action movie like its 1999 predecessor.