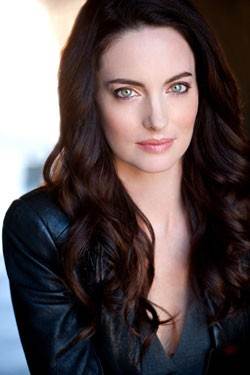 Alex Lombard, co-star in 20th Century Fox's anticipated summer blockbuster, "Abraham Lincoln: Vampire Hunter," as 'Gabrielle,' recently sat down with FlickDirect to discuss what it was like working on the film.

Countdown to the release of Abraham Lincoln: Vampire Hunter, with the iPhone Movie Countdown Clock App.

FlickDirect: So tell us a bit about your character in Abraham Lincoln: Vampire Hunter

Alex Lombard: Sure. She is the girlfriend of Henry Sturges, played by Dominic Cooper, who takes Abraham Lincoln under his wing and tutors him in the ways of vampire hunting. He teaches him that there are good and evil vampires, as well as the ways of the world. I am his girlfriend, and I provide a bit of sexy comedic relief when Abraham Lincoln first arrives there.

FlickDirect: Was there anything specific that attracted you to Abraham Lincoln: Vampire Hunter?

Alex Lombard: The title! I wasn't familiar with the book when I was introduced to the title, and I was so incredibly intrigued by it. It is such a funny mash-up concept; and I thought, whoever wrote this had a really good sense of humor. Then, of course, I wound up reading the book, which I loved. The same author did the screenplay, which doesn't always happen, and that was really cool.

When I got to New Orleans and saw that we were actually shooting in the French Quarter, and you know working with everyone, it felt like a dream, and it was like a dream-team.

FlickDirect: Did you get to meet Tim Burton?

Alex Lombard: No, but his presence was very strongly felt on the set.

FlickDirect: You filmed in the French Quarter -- what was that like?

Alex Lombard: Being in the French Quarter in New Orleans is like being on a movie set anyway, so being in a movie in the Quarter, is just really amazing. The art direction was unbelievable. The customs are breath taking. It was a really cool experience.

FlickDirect: Did you get to wear a period costume? What was that like?

Alex Lombard: [Laughs] Well, I was wearing a sheet. I guess you could say it was an authentic, 17th-century sheet; but the minute we were in the house, this beautiful, historic home, it was like being transported back.

FlickDirect: Have you seen the movie? Will you take your parents to see it?

Alex Lombard: They're in Charleston; and I will be at the opening in New York -- so no, they will have to see it themselves - although I would love to go with my Mom.

FlickDirect: Other than Abraham Lincoln: Vampire Hunter, do you have a favorite Vampire story?

Alex Lombard: I really like True Blood. My interest in vampires really started with True Blood. I love Alan Ball, and I love the series. It is really funny, intriguing and sexy!

FlickDirect: Presidential Politics would be more interesting if they were battling vampires. Having just done a movie with Abraham Lincoln in a charged election year, do you have a favorite President?

Alex Lombard: In my lifetime? I would have to say Clinton.

FlickDirect: I want to talk about Inception for a second. You are in the lobby scene in Inception, talking to the person at the check-in desk, if I recall correctly. I wanted to know -- did they give you any specific direction for playing a subconscious person? And did you talk to the other person behind the desk as if you were checking into a real hotel? Or just pretend to or what -- how did that work?

Alex Lombard: Wow, you have a really good eye! They were a very secretive crew, and it was all super-secret. That keeps happening to me. So even the actors didn't know everything. Sometimes they give you a script, but it is just made up for the audition -- not even the real thing. Everything was super under-wraps, so we didn't know anything -- almost no direction.

For the hotel, I just improvised in the moment. If the other person is willing, you just kind of go-for it. No one knew anything about the movie, so we just did what we could.

FlickDirect: What's the coolest thing you done as an actress so far?

Alex Lombard: Abraham Lincoln. Not to take away from everything else. It was wonderful.

FlickDirect: And you got to wear a sheet. Question: Are you actually, for-real naked? How does that work?

Alex Lombard: Yes. Actually, for-real naked. I haven't seen the actual cut, so I don't know exactly how much you'll see [laughs].

FlickDirect: How do you deal with that?

Alex Lombard: You know what, it didn't faze me. I mean, I am a very conservative Southern girl; but it is work; and you know, it is a $70-million-dollar picture - it is not like we're shooting in someone's back yard. I didn't bat an eyelash, and I went for it. Dominic made me so feel incredibly comfortable. I met him on one day, and the next I was straddling him naked in the bathtub.

But, you know, it is work. The cast and crew also helped it feel natural!

FlickDirect: That's fantastic. I'm looking forward to seeing it. Do you have anything else coming up we should know about?

Alex Lombard: Man Without a Head, but, you know: it is so secret that there is not much I can say. It is a languid, beautiful, somewhat esoteric movie that just captures the world that has been created; but I can't say a lot more than that.

FlickDirect: Thank you and good luck!

Alex Lombard: Thanks!