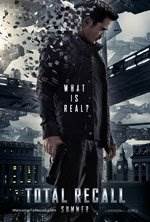 CULVER CITY, Calif., July 5, 2012 - Ever wish you could be a sports anchor, behind the scenes at ESPN? A Rock Star, chilling with Green Day? A fashionista, hanging with Heidi Klum? A professional videogamer? A Club DJ? A secret agent? Now, Rekall will give moviegoers the chance to live out their fantasies.

In the new movie Total Recall, in theaters August 3rd, an ordinary factory worker visits Rekall - the company that can give you real memories of a fantastic life. In Sony Pictures Entertainment's "Welcome to Rekall" sweepstakes at www.WelcomeToRekall.com, moviegoers will get their chance to bring the Rekall experience to life with a fantasy sweepstakes package.

In addition, all visitors to the site will be able to link their Facebook profiles to their entry to receive a personalized Rekall video, detailing the story of their brand new memories and successful Rekall experience, which they can share with their friends on Facebook.

With nine different categories to choose from, moviegoers will enter to win a premium prize package with top partners:


The Sports Anchor winner will spend the day at ESPN headquarters to get the full experience of a day in studio, provided by ESPN
The Rock Star winner will hang with Green Day, attend a sound check and receive backstage access provided by Pandora
The Fashionista winner will meet Heidi Klum and her stylist in Los Angeles, sponsored by AOL
The Secret Agent winner will attend the Stiletto Spy School or the MI6 Academy, sponsored by Yahoo! Movies
The UFC Champion winner, sponsored by UFC, will train with pro fighters and sit octagonside with the trainer
The Celebrity winner will live like a celebrity in Los Angeles and attend a red carpet event, sponsored by Wonderwall
The DJ winner will receive DJ lessons from a high-profile DJ, sponsored by Complex
The Video Gamer winner will travel to Microsoft headquarters to meet a game developer and receive the chance to battle it out with a pro, sponsored by Microsoft
And the Millionaire winner will receive 1,000,000 Sony Rewards points, sponsored by Sony Rewards. With Sony Rewards, members can get rewarded for doing the things they already love - like going to the movies, playing games, sharing and more. The points can be used to redeem for the latest Sony electronics, movies, music and games - and even once-in-a-lifetime experiences.
In addition, there will be "Welcome to Rekall" experiences in New York, Los Angeles and at Comic-Con. At these special kiosks, users will be able to choose their Rekall experience and receive a photo badge of themselves experiencing the Rekall-provided memory.

Commenting on the announcement, Marc Weinstock, president of Worldwide Marketing for Sony Pictures, said, "Blurring the line between fantasy and reality and questioning what is real versus what is imagined is at the heart of this movie and our campaign. Throughwelcometorekall.com, moviegoers get a true taste of the Total Recall experience as they vie for real and unique, once-in-a-lifetime opportunities to live out their own fantasies."

Total Recall is an action thriller about reality and memory, inspired anew by the famous short story "We Can Remember It For You Wholesale" by Philip K. Dick. Welcome to Rekall, the company that can turn your dreams into real memories. For a factory worker named Douglas Quaid (Colin Farrell), even though he's got a beautiful wife (Kate Beckinsale) whom he loves, the mind-trip sounds like the perfect vacation from his frustrating life - real memories of life as a super-spy might be just what he needs. But when the procedure goes horribly wrong, Quaid becomes a hunted man. Finding himself on the run from the police - controlled by Chancellor Cohaagen (Bryan Cranston) - there is no one Quaid can trust, except possibly a rebel fighter (Jessica Biel) working for the head of the underground resistance (Bill Nighy). The line between fantasy and reality gets blurred and the fate of his world hangs in the balance as Quaid discovers his true identity, his true love, and his true fate. The film is directed by Len Wiseman. The screenplay is by Kurt Wimmer and Mark Bomback and the screen story is by Ronald Shusett & Dan O'Bannon and Jon Povill and Kurt Wimmer. The producers are Neal H. Moritz and Toby Jaffe.

Countdown to the release of Total Recall, with the iPhone Movie Countdown Clock App.