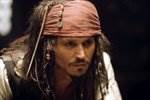 It seems a fifth installment of the highly popular "Pirates of the Caribbean" franchise is not to far away on the horizon. It has been reported that Johnny Depp has signed on for a fifth movie.

According to sources, he is expecting to pick up a whopping $100 million pay-check to reprise the role of the eccentric pirate Captain Jack Sparrow. The Sun claims he has signed on to the movie as a way to finance the split from his former partner Vanessa Paradis, the mother of his two daughters.

The source went on to say "This huge deal for Pirates means he will be able to pick his other roles very carefully on the strength of their script rather than their salary."

Back in 2011, Jerry Bruckheimer stated that an initial script had already been written for a fifth "Pirates".