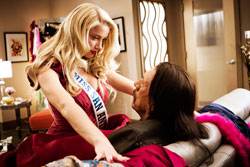 Open Road Films has acquired all U.S. distribution rights to MACHETE KILLS, directed by Robert Rodriguez (Machete, Sin City, Spy Kids franchise) and starring Danny Trejo, Michelle Rodriguez, Sofia Vergara, Amber Heard, Charlie Sheen, Lady Gaga, Antonio Banderas, Jessica Alba, Demian Bichir, Alexa Vega, Vanessa Hudgens, Cuba Gooding, Jr., William Sadler, Marko Zaror and Mel Gibson. The announcement was made today by Tom Ortenberg, CEO of Open Road Films.

Directed by Robert Rodriguez from a screenplay by Kyle Ward and based on a story by Marcel Rodriguez and Robert Rodríguez, MACHETE KILLS is the sequel to the 2010 hit film MACHETE - which has built a devoted legion of fans since its release - and is the second film in a trilogy. The film is produced by Robert Rodriguez, along with Aaron Kaufman and Iliana Nikolic through their QuickDraw Productions banner, as well as Sergei Bespalov of Aldamisa Films, Alexander Rodnyansky of AR Films, and Rick Schwartz of Overnight Films. The film is expected to have a wide release in 2013.


In MACHETE KILLS, Danny Trejo returns as ex-Federale agent MACHETE, who is recruited by the President of the United States for a mission which would be impossible for any mortal man - he must take down a madman revolutionary and an eccentric billionaire arms dealer who has hatched a plan to spread war and anarchy across the planet.

"Robert Rodriguez never ceases to wow audiences with his innovative and eye-popping filmmaking. We are thrilled to bring the Machete franchise into the Open Road family and can't wait to get to work with this incredible cast and the filmmaking team," stated Ortenberg.
"Open Road is the perfect home for MACHETE KILLS," stated Robert Rodriguez. "Since their inception they have been trailblazers who have turned the theatrical distribution model on its head. I am confident that they will build upon the significant fan fervor that has made Machete such a success."

"One of the companies within my AR Films conglomerate distributed Robert's hit MACHETE in Central and Eastern Europe, and I was delighted to have the opportunity to produce MACHETE KILLS and continue that relationship," stated Rodnyansky. "It's an exciting project for all of us, and we're very happy that it's in such good hands with Tom Ortenberg and Open Road."

The deal was negotiated on behalf of Open Road Films by Ortenberg, General Counsel and Executive Vice President of Operations and Business Affairs Elliott Kleinberg, and Senior Vice President of Acquisitions Ben Cotner. Jere Hausfater and Mark Manuel negotiated on behalf of Aldamisa, along with Graham Taylor and WME Global, who repped the film.