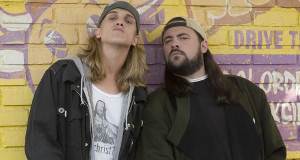 Kevin Smith has announced via Twitter that his final film, as a director, will be "Clerks 3".

Smith tweeted "So with the HIT SOMEBODY shift, the minute Jeff Anderson signs on, my last cinematic effort as a writer/director will be CLERKS III. #TaDa"

Back in 2010, he hinted as much, saying "'Red State' is done. Next step is the hockey movie, 'Hit Somebody.' Then I'm done. There's possibly a 'Clerks 3.; If I have something to say in my late 40s about being in my late 40s, I'll think of ['Clerks'] Dante and Randal. Shy of that, I don't have any more movies I want to make."

Time will tell whether or not Anderson will sign on, given the fact that he had previously said that he doubted any such return. While promoting "Clerks 2" he said, "I don't think I want to see these guys back in a live action; 'Clerks II' is a nice book-end to 'Clerks.' It's a movie that stands on its own, I love the way it ends, back where they were. And it ends with Kevin's mom, doing the exact same part that she did. It ends with a Soul Asylum song; they were on the original soundtrack and the song fits so well. I don't think you go back to it and mess with it again. I'm a fan of this and I like the way this turned out; it's just time for me to turn away."

Countdown to the release of Clerks 3, with the iPhone Movie Countdown Clock App

.